At the beginning of the year 2017, I injured my left rotator cuff. I believe the tear was formed during a combination of activity, but I'm not entirely sure what happened. It took the shoulder a long time to heal and it affected my physical capacity for more than five months.
The first six months are critical to any injured body part that wants to heal. Proper care, nutrition, stretching, exercise and relaxation are essential components of rehabilitation. A "don't give up attitude" is too. I can relate to the limited movement, the pain, and the frustration from the rotator cuff injury!
What's good is that my shoulder (along with my arms and entire core) is much stronger than before because, well simply put, I care about my shoulders and exercise with purpose so they can work hard for me!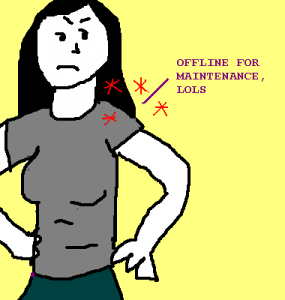 I was offline for maintenance, but I'm back and stronger than ever!
They're your only shoulders, all yours. If there's injury, please do everything possible allowing it to heal on its' own.
I seriously believe practicing yoga/focused stretching is valuable during any healing process. But what happens when a shoulder injury becomes chronic after 6 months? If surgery is performed, it's even more paramount to pay attention to rehabilitation efforts.
Rehabilitation includes body and mind. Speaking of mind, I am grateful to hear of the new change in the Iowa workers' compensation law to provide workers who have a serious shoulder injury and can no longer return to their existing job with vocational rehabilitation benefits. After July 1, 2017, if in the workers' compensation system for a shoulder injury, the individual will receive assistance with gaining knowledge through training at a local community college…and we have good ones here in Iowa!
Also in January of this year 2017, I worked with a vocational rehabilitation client through this same scenario. The client had a serious rotator cuff injury with multiple surgeries to his shoulder and wasn't expected to be able to return to his job as a roofer. He expressed interest in work as a heavy machine operator, so upon research and contact with local resources, I prepared an in-depth report to support my findings to help him move into a new career. Please let me know if (after July 1, 2017) you have a need on a case involving a shoulder injury as this information is fresh!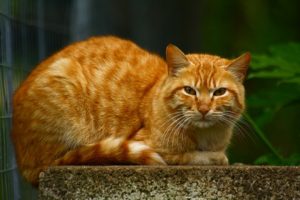 Gerald the Cat…Studious, Quick and Very Orange & Very Cool!
"Iowa's workers' compensation law will be changing significantly for injuries that occur after July 1, 2017.
Shoulders (85.34) Shoulder injuries are no longer considered industrial disabilities and are now categorized as scheduled member injury based off of 400 weeks.
Shoulder Rehabilitation (85.70) An employee who has sustained an injury to the shoulder resulting in PPD who cannot return to gainful employment because of the disability, now has the right to be evaluated by the department of workforce development, and if deemed appropriate, referred to an area community college to receive new career vocational training. The employer or the employer's insurer is required to pay financial support for participation in the program up to $15,000 for tuition, fees, and required supplies."

Nice Biceps!
Please let me know if you have a need for a vocational expert like me to help. I have lots of experience helping Veterans with returning to school so they can then commence with a new career. Thank you and I hope to hear from you soon!
I enjoy using cool cats to support my work!
___________________
My professional rehabilitation counseling practice is focused on helping people participate in the world around them, particularly in their own world of work.