[Original Post Date: Oct 8, 2012] Randy and I got back from Kansas City last night, after spending the weekend in Missouri. Once again, in comparison to the people we encountered in Chicago a few weeks ago, I found locals clad in red to be quite friendly!
We went to yesterday's Chiefs game.  It was fun to go, but alas they did not win.  And yet, believe it or not, the incredible fans around us were well behaved!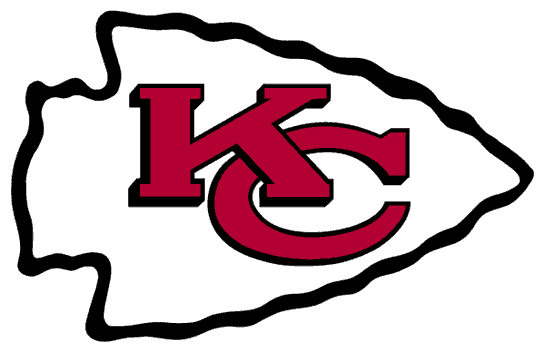 Chiefs! We try to go once a year….a goal!
Have you ever considered the skills of a football player? I have!  And they're quite similar to what most employers look for in a good employee.  Here's a sample of five…
1.  Meeting the challenge
2.  Determination
3.  Communication skills
4.  Performing under pressure
5.  Goal setting
…read on for more transferable skills of a NFL player…. The skills are not much different from what employers desire!
I've always wanted to help out a professional, or a semi-professional athlete find work upon retirement, or following an injury. Someday!   I've also always wanted to (one of my many fantasies), kick one right through the uprights!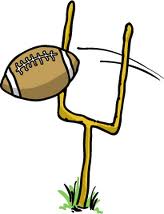 It's Good!
As far as football injuries, I did a little research:  The Top 5 (with the research saying that most injuries occur during competition and not during practice):
1. Hamstring Strain
2. Sprained Ankle
3. Knee Cartilage Tear
4. Hernia
5. Anterior  Cruciate Ligament (ACL)*
*  [Update to this…..oh, NO Jamaal Charles, what are the Chiefs going to do without you???? On Sunday's 10-11-15 game against the Bears …… who won 18-17 : ), he sustained this type of injury (right knee) and is out for the rest of the season. I love watching him play! for ] Charles missed all but two games of the 2011 season because of a torn ACL in his left knee.
We've all had, correction, I know I have had #2 more than once. Randy has had #4 more than once. We've all heard of a football player tearing #5. Thankfully, we don't see back injury or brain injury on this list although I'm sure they happen.  Here's a link to NFL players currently on the injury list….and on the mend … makes ya think.
Oh, and how much $ does the average professional football player make? About $1.1 million. Source: Randy Botkin ha ha! Now of course that means some make $10 million+++ and some make $100,000. Is it worth it? Makes ya think again. Especially if your career lasts oh about 3 years and your life can be shorted maybe what 20-30 years? Source: Randy Botkin again!
Here's your pay for the day Mr. Manning
BTW, you may recall Peyton as the quarterback for the Denver Broncos missed the entire 2011 season due to a neck injury requiring him to have neck surgery twice. Rehabilitation counseling was incredibly important to him, I'm sure.
I often work with clients (ones who experienced an injury while at work) with some type of back injury and are no longer able to do the work they did previously.
Have you ever thought about what you do now for a living and if something were to change, what you could do in the future to make money?  Something I help people to think about all the time….makes you think once last time I hope.
More to come … and the final.    Chiefs: 6   Ravens: 9 Booo
Another update: 10/14/15: Chiefs better get better this season!
 ___________________
My professional rehabilitation counseling practice is focused on helping people find a place in the workforce.
___________________
Vocational Resources Plus, LLC * lcpresourcesplus.com * 515-282-7753  * VocResources@msn.com