The estimated reading time for this post is 136 seconds
Back when I Changed My Mind post, I started to blog about my brother Steven John Patrick Henry Murphy Fred George John Prochnow. Okay, aka Steve. My brother Steve loved the 4th of July.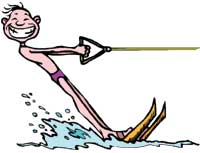 One of Steve's favorite activities was water skiing
He was in the Iowa Falls Ski Club. I was too for a time! Our team practiced and showed off in front of people driving along the river bend, or walking across swinging bridge, or boating, or hanging out at Foster Park. Along the Iowa River you never know who you'll meet!
The big ski show is on the 4th during the annual River Bend Rally Celebration. For the show one year, Steve dressed up as a clown (over swim trunks), hit the ramp, and sailed through a ring of fire! The crowd roared!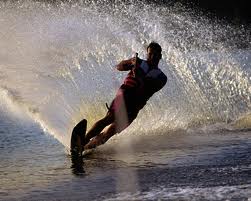 Steven was into extreme sports. A daredevil to the bone.
Iowa Falls is nestled on the borders of the beautiful Iowa River in north central Iowa. The river, the cliffs, and the parks along the river have given Iowa Falls the well-deserved nickname, "The Scenic City."
I'll be heading to "The Scenic City" soon. Last year, this time, old high school friends partied together for our class reunion. Isn't it interesting how some people just never change?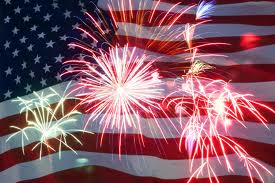 The 4th of July was Steve's favorite holiday
Back to Steven. He would've turned 51 this year of 2013 on July 17. I wonder how he would've changed….probably would be a father to several children and pets. Still at Disney and happily married to Shereen. But that's not reality as he died in a motorcycle accident on October 24, 1998 while living in Florida.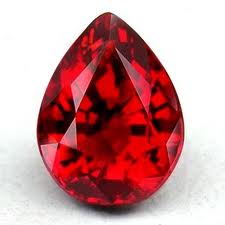 July's birthstone is the ruby, which calls to mind thoughts of love and passion.
I miss him tremendously. He was working at Disney World, having started his career at Disney outside wearing shorts in Epcot's World Showcase. I love this relaxing and scenic area of Disney World, centered around a reflective lagoon. There are eleven countries represented in unique cultural fashion, and the food!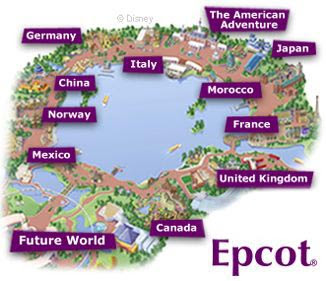 Steven would brag and say "I live in Florida, and work in Canada."
He later landed an executive job where he wore a tie to the office every day. I am so proud of how he progressed at Disney World. His last position was in career training and development. He helped employees of Disney progress!
Maybe more on SJP in a future post……Love you bro!
___________________
My professional rehabilitation counseling practice is focused on helping people find a place in the workforce.