Reading Time:
5
minutes
My story leading up to my career as a rehabilitation counselor who focuses on job placement continues!
Many of my first jobs in the big city of Des Moines, Iowa were secured through temporary staffing agencies. I find the benefit of staffing agencies invaluable! From a personal perspective, working for a staffing agency really helped me to develop my career. Here's a link to an article of the benefits of staffing agencies from a business point of view.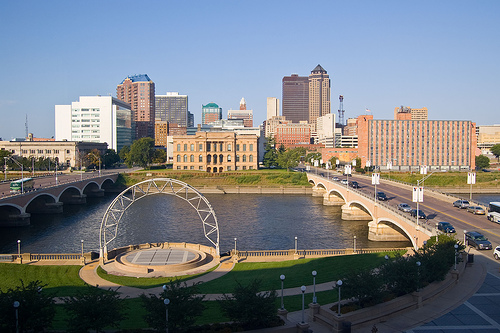 The View Wasn't Quite Like This When I Started as Kelly "Girl"!
Specifically, at this time in my life in 1984-85, I started employment through Kelly Services. I worked at many businesses, mostly in downtown Des Moines, but also at businesses in other areas of the city, working with a variety of people, and in diverse environments. It was great!
The clerical skills I used (and greatly enhanced on the job) to help these companies included ~ 95 words per minute typing speed, (can't quite reach that speed anymore!), reception responsibilities such as greeting clientele, answering phones, taking messages, filing, and other general secretarial office procedures. Again, it was great!
To name a few of my assignments from memory (come on little computer in thy brain): American Can, The Embassy Club, Chamberlin Kirke-Van Orsdel, Sears Credit Card, Younkers Department Store (in the Marketing Department). Besides the tragedy, this is another reason why I shed a tear over the Younkers fire in March 2014…
I loved my temporary clerical jobs!
While working for Kelly Services as a temp during the day, I also worked part-time at the Target Café on the weekends (when the Target was on Fleur Drive). I catered to all the hungry shopper's food needs. I made pizzas, pretzels, popcorn, nachos, sandwiches, chicken tenders, fries, and the rest of the snack bar options. It was a nice job to have. And I never left hungry! At that time, I also lived right across Fleur in an apartment with my sister Janice, so I just walked to and from work!
Additionally during this time period in my life, in the evening I worked on the top floor of the Federal Building for the USDA's National Agricultural Statistics Service. (I remember watching the construction of The Plaza across 3rd Street…which was completed in November of 1985) After receiving on-the-job training, I called farmers and asked specific questions about crops and livestock, while entering codes and farmer responses into the computer. It was an interesting job to have! Data entry was valuable, as was good communication skills.
I'll never forget one farmer, who upon listening to my introduction replied "I'm sleeping." I appreciated his ability to sleep and talk….and respected his underlying wishes (and politely wished him good night – it was like 8:00pm, and hung up…farmers=hard-workers.) Because of my direct experience with telemarketing in a call center environment, I have insight into the nature of work as a telemarketer and its business value. In other words, it's a viable occupation and the person on the other end simply has job to do. Please respect that.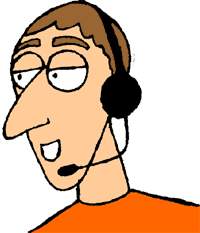 Work as a telemarketer requires excellent communication skills (this worker looks a lot like my son Nick!)
In 1986, I applied and was hired at Mercy Medical Center as a correspondence clerk. The medical records clerk job description is very important to healthcare. Click here for a job description for medical records clerk. Commonly a medical records clerk needs an associate level college degree.
I was hired at Mercy because of my nursing background, my knowledge of medical terminology and the courses I completed in anatomy and physiology, as well as my clerical abilities. At this job, I worked days (the medical records department was a 24/7 operation). Each day, the phones were incessant with callers wanting medical records and the incoming mail filled with correspondence from patients, doctors and other medical facilities requesting records. Oh, and the back log – stacked to the ceiling in my supervisor's office…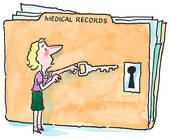 My work as a correspondence clerk was a lot!
After opening the mail, I logged everything in. Then, I had to locate the medical record file. The storage area containing medical records was vast as was the sheer size of some of the files. There was a lot of paperwork, nursing notes, testing results, surgical records…on and on and on. At times the record was on microfiche, which required visiting the basement to locate boxes near the (aahhhh) morgue.
After locating and retrieving the file (which involved accuracy and a check and balance process), the contents of the file were reviewed, the information that was requested was clipped and copied.
To this day a bit of animosity to large copy machines remains within.
Then the requested information was prepared, a cover letter attached, and mailed, faxed, or delivered via internal mail procedures. Again, a lot of documentation of what was done and to who, oh and how much was charged.
One day, I learned about the availability of civil service tests to work for the government. So, I took a test or two or three, did well, and applied with the State of Iowa. I was hired as a Clerk Typist III-IV for the State of Iowa at the Bureau of Disability Determination Services (DDSB) in the Department of Education.
At that time DDSB was located in the Jessie Parker Building, 510 East 12th Street, Des Moines. I have lots of good memories, met many friends (I love you Chele Ridout!), and learned a lot about work and disability.
As I blog through time and space both forward and backward, I have no idea how many parts this story will go! I hope you enjoy it. Please provide me with feedback or comments. I love to learn about what people do with their skills and abilities!
More to come, please stay tuned for Part 5.
Initial publication date: December 12, 2011
___________________
My professional rehabilitation counseling practice is focused on helping people participate in the world around them, particularly in their own world of work.