Reading Time:
2
minutes
I was really enjoying my coursework at Iowa State University.  I took anywhere from 12-19 credits per semester.  I was hitting the books hard, studying constantly, and commuting back and forth to Ames.  Even on occasion making the trip twice in one day – I had a couple of night classes.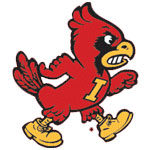 Go Clones!
For any of you who can relate, walking on a large campus can be quite a trip in itself.  The commuter club dropped us off at the Armory and we walked, and walked and walked.  Oh, and the cold during the winter………and the walking….and the huge class sizes (many of my courses, not all were 200+), and the walking, and the studying and the walking, and the tests…and my life!

Upon awaking she notices yellow highlighter stains on sheets and on various parts of body.  Read:  fell asleep hip (highlighting in progress)
I've been going through my ISU stuff, and found several papers and memorabilia from my ISU days.  I'll be blogging about some of my recollections.  Here's one!
In the Fall of 1992 (my first semester), I took Business Communications – a Speech class.  One of my first speeches was on something we all do, or will do sometime in the future.  I presented it the class with a clue:  It's a 4 letter word, ends in k, it can be very good for some people and it can turn boring, monotonous and simply not challenging for others.  You're right – work.  My visuals included a Barbie and a Ken doll.  Ugg, I know.  But they were my workers.  Click here (or check out my blog on workaholism) for the transcript of my training and development presentation on workaholism.  I have a video of my presentation, and may try to upload that somehow someday.
Thanks for reading. On to Part 12!?!
___________________________________________________