Reading Time:
3
minutes
As I mentioned in last week's post, Arin was in interviewing mode. She found success! Today she starts her training at the Des Moines Public Library. My daughter, a librarian aide! I love it. She is so excited! It's a part-time position, which the library does for all aides, that pays pretty good! She will continue at Walgreen's as well, so will be working plenty of hours. Do you remember what job(s) you had at age 18? Click here for my earlier work history.
Arin the Aide To the Rescue!
I have blogged about Arin in the past and my grandma's love for reading. Reading helps in lots of ways; one being that your vocabulary will become larger and more sophisticated. I remember one of my professors at Drake University (Dr. Bob Stensrud!) said something along the lines that a strong vocabulary is a sign of high intelligence. I'm sure there's plenty of variances on that statement from people much smarter than me, but I agree that intelligence drives the need to acquire the vocabulary in the first place.
On Saturday, Randy and I took a road trip. When we realized from listening on the radio that the Cyclones just might win, we decided we needed to watch the second half! We found a nice place in Oxford, Iowa and stopped on in. There were some buddies hanging out at the bar and one was kinda making me sick. He was a "chain swearer". You've heard one. F this and F that in almost every sentence. And when watching college football on a big screen tv, you can imagine what I heard. Yuck!  I will admit I heard myself say "Poopy" over and over towards the end of the ISU game….
I thought hummmm is my theory that people who swear excessively have low vocabulary levels and corresponding low intelligence? I don't know, but there are studies out there I'm sure. I do pay attention when interviewing evaluees about their use of profanity and will report on it (while also offering counseling "advice") as it certainly affects one's view of professionalism in the workplace.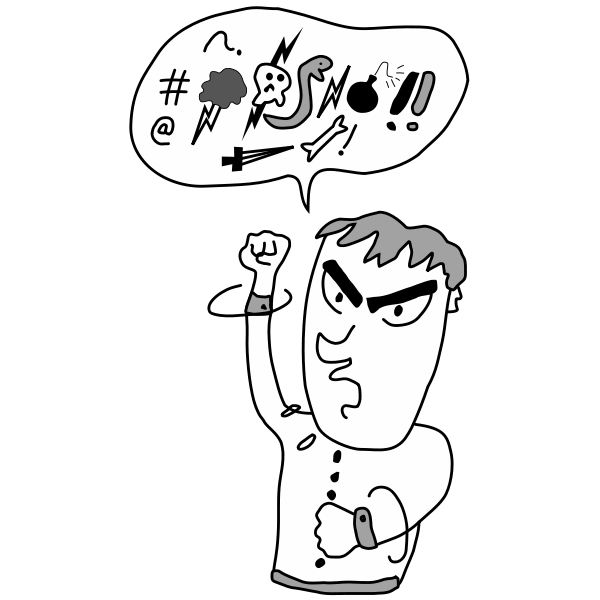 People Swear, and Unfortunately I Am One of Em
But I don't want to and I do notice it when I swear and chastise myself! And I try to stop hubby too. And Arin. And Jake. And Nick….and on and on! When my mom swears (not often) I sure take note! Woah!
I cringe when I hear a person swear in professional environments (and on the playing field…and  especially in front of children). I certainly hope Arin doesn't let a big "F-bomb" out when she is at work at the DMPL (frown upon for sure!) She won't! [I'm making her read this post…]
Back to the point of this blog and successful interviewing. The keys to a successful interview are preparation and practice. Let me know how I could help and download this tip sheet titled on Interviewing.
P.S. Don't swear during an interview! Use the best communication skills you have!
P.S.S. My grandma Jean's favorite "bad" word was "Horrors!"
___________________
My professional rehabilitation counseling practice is focused on helping people find a place in the workforce