Reading Time:
4
minutes
This blog is a continuation of last years 20th Anniversary congrats to my company, where I posted numerous roses. This year I have these beauties to share!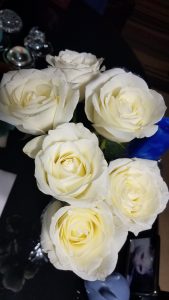 These white roses are on my desk, and if you look closely you can see Alaska's picture, bottom right. She is also below my desk, where she likes to lounge!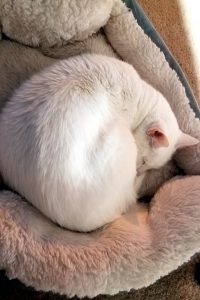 With Mollie near by!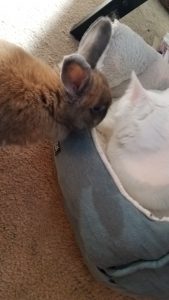 And Randy not that far away either. Jeez, I'm used to working alone along side a few office pets (and several plants). Yet since March of this year, I've had a long-haired human office mate: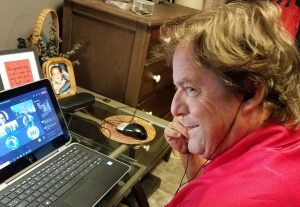 Not having a human office mate for over 20 years and 6 months takes a bit of adjusting (and flexibility). As a Des Moines Public School staff member, Randy (just like every one else) does not know what may happen next within our schools. Tonight, there will be another board meeting and we may find out. It might be either an appeal or a hybrid-mix of teaching/learning.
There's been a lot of confusion and I sincerely hope everyone involved is learning a lesson…which in my opinion is about flexibility and patience.
Students, their families, DMPS staff, the Governor, the Department of Education, and the judge(s) involved need to express the willingness and ability to adapt to change, particularly regarding how and when work gets done.
It is my opinion K-12 learning can take place remotely, and I believe it's the wave of the future. Why not take the time to embrace how to learn remotely now? It'll be useful in the future.
From March 2020 on through today (and beyond) every one who has taken responsibility for their own working, learning, and living environments has grown in maturity, flexibility, and accountability. There are resources to help in each of these environmental areas.
My intuition and background in community health education simply tells me it is not a good idea to have so many individuals of all ages in an enclosed space during the day during a pandemic. I do not think it is a good idea to have our local schools meet in person…just yet. There's not enough good quality air flow.
If we had more open air spaces to teach, that would help. But we don't. To state this point, for many years in the past, my husband taught students in a room that did not even have windows.
Here's a fact: Des Moines Public Schools is the largest provider of public education in Iowa, with more than 33,000 students and nearly 5,000 teachers and staff at work in more than 60 schools throughout the community.
Here's another fact: Learning can take place virtually.
And here's my personal point view: Have patience people. Let this pandemic settle down. I simply hope the best decision is made and my husband is not exposed to this hidden virus and gets ill. It is not an easy thought, but it certainly could happen. He means too much to me. He has underlying conditions.
As a mother, I am thankful my adult children who are currently college students (Nick at UI and Arin at DMACC) are taking online courses. And they are thriving! So are you too Jake, at the ARL! Actually, think about it, the ARL does remote adoptions!
A 3rd fact and beyond: The Covid-19 virus is novel. It is not known whether or not it will will remain in a body, to potentially resurface and do more destruction, both physically and psychologically.
Keep in mind the chicken pox (herpes zoster) virus stays in your body. And it resurfaces as shingles. I've had two bouts of shingles, one over the entire left side of my body (not my face though) when I was in my mid-20s right after having Nick and it was absolutely awful. Recently this March, I had a recurrence on my right eye lid and covering my right eyebrow area. Again, this was incredibly painful, long-lasting and, well, I am lucky my vision didn't suffer long term effects (I still have some ongoing problems). Think about it. Older people have a propensity towards shingles.
It is probable that in the future the millions of people who have already been infected with Covid-19 will suffer again (or die) related to this virus.
Last night, I talked to a young man who had been infected with Covid-19. It took him nearly 3 weeks to feel better. He believes any underlying condition would absolutely be exacerbated by the virus. And in reality, underlying conditions are commonly a natural part of aging.
Is this worth it to expose each other? There is time to stop and smell the roses. I do not see any reason to not step back and do what is intuitively safe.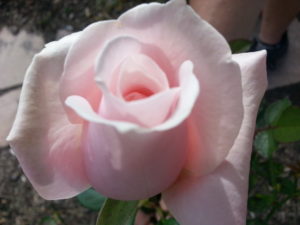 This is my opinion; and I'm sticking to it! Wait for the pandemic to settle down and go ahead with 100% remote learning at this time.
I may or may not update this post later. If the lawsuit goes to the supreme court, I hope our judges make the best decision for every one in our community.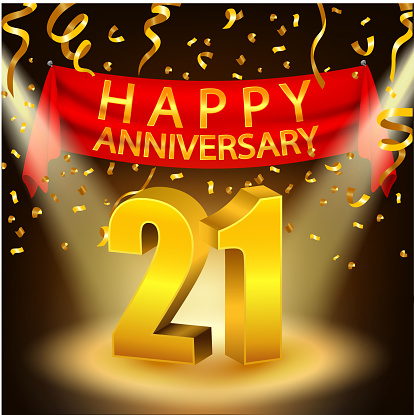 Happy 21st Anniversary to Vocational Resources Plus!
Contact me for help on a litigated case involving work and disability. Allow me to help you form an opinion (I love forming one and defending one). I'm here to help! Thank you for reading.
___________________
My professional rehabilitation counseling practice is focused on helping people participate in the world around them, particularly in their own world of work.