Reading Time:
3
minutes
Happy 56th Birthday to my husband Randy!
September 29 is also Randy's mother's birthday. Marylin would've turned 76 today. She's been in heaven for 20 years now. How many women have babies on their birthdays? Pretty cool, huh! I'm curious of the odds.
The lines from from the Beatles Birthday Song from the White Album ring true with mother and son!
You say it's your birthday,
It's my birthday too, yeah;
They say it's your birthday,
We're gonna have a good time;
I'm glad it's your birthday,
Happy birthday to you.
Yes, we're goin' to a party, party.
Yes, we're goin' to a party, party,
Yes, we're goin' to a party, party.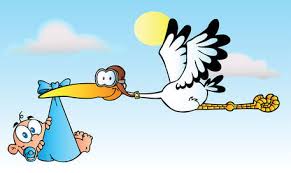 56 years ago the stork delivered boy Botkin to Marylin & Jim
Randy's mother, Marylin was one great lady. We love and miss her dearly (and her husband Jim too…also "up there in heaven".)
When Randy was a teenager growing up in Saylorville Township, his mom worked 8:00 PM-4:00 AM as a data processor for Banker's Trust downtown Des Moines. When Marylin arrived back home from her shift (yes, 4:00 in the morning!), she'd wake Randy up so he could get going on his paper route (Des Moines Register & Tribune).
Randy and my dad – who had a rural paper route, his method was by truck delivering the papers to customers who lived in the country, while Randy rode his bicycle and walked to delivery in his own neighborhood – have their exciting paper route stories!
Randy tells me he delivered (and yes, from time to time, we have to relive the days by traveling his route, he being the tour guide), the daily paper to ~56 homes each morning before school. He had to finish delivering and arrive back home so he could get on the bus on time to get to school. To this day, Randy is an early riser, and brags he doesn't use an alarm clock. This is true.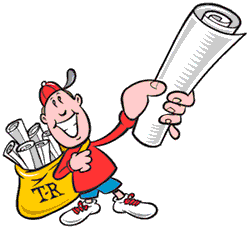 Read All About It!
Randy recalls how most of his customers requested the newspaper to be placed inside the door as opposed to the typical throw it and hope it ends near the door method, which actually made his route longer, but he complied with their wishes!
He remembers getting tips. And he remembers when it was really, really cold…read early mornings in Iowa…brrrrr, makes me shiver just thinking about it. I would not have made it long as a paper boy.
Although you are no longer a paper boy Mr. Botkin, I know those days were valuable to develop your work ethic. In early 2013 I wrote several blogs about Randy and his work ethic!
Okay, now get on your bike and ride Mr. B!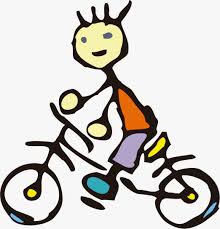 Randy uses pedal power most days during the week to ride to school.
Trivia: The scales of justice is the symbol for Libra (Randy's one), and is the only zodiac sign that is not represented by animal or human.
Did you know that my attorney reader? Let me know if you did. And also let me know how I can help you help your client with a case involving work and disability. I'm here to help! Contact me at 515-778-0634 or amyebotkin@lcpresourcesplus.com
I hope your work week is great. Thank you for reading.
___________________
My professional rehabilitation counseling practice is focused on helping people find a place in the workforce