Reading Time:
4
minutes
If you've noticed, I like to add links to my posts. I hope you've found something interesting to read when you read more and more into my blog posts! Ironically, I have a grand dog named Link! He belongs to my son Jacob and his wife Bridget! More to come on this news below!
LinkyPooPoo first. He's named after Link a fictional character and the main protagonist of Nintendo's video game series The Legend of Zelda.
Jake and Bridget are gamers forever now! I'm sure Bridget, as a gifted writer, musician, barista, educator, creative, intelligent, and beautiful young woman can appreciate opening my blog writing to you about her dog. Yes, that's right, Link!
For post context, Jacob's been employed as full-time animal technician at the ARL for over two years now. Guess what happened within the first few weeks of his employment? You're right! He adopted a dog!
Here's Link the 1st Day I Met Him!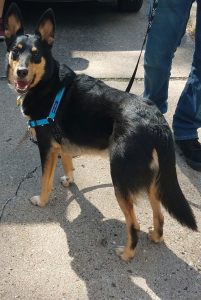 He's an Australian Kelpie. In this photo he's two, recently he turned four! Link has experiences dealing with emotional doggy issues which are worked out on a constant basis, no different than a human living through long-term a traumatic injury or catastrophic situation does. Many pets who are at the ARL have behavioral issues and with training, love and attention, they can overcome the issues that may be inhibiting them from becoming the best doggie they could be. Sounds good!
According to petful.com/ Australian Kelpies are herding dogs often referred to as workaholics because of their intense stamina and endurance. Their instincts make them wary of strangers, a good attribute for any watchdog and they need consistent socialization in order to judge real threats better.
Kelpies are incredibly independent and intelligent, and known for being able to learn almost any command or task (sit came instantly with Link). This dog requires an active and involved family to whom they are very loyal. I've taken him for walks and it is brisk!!!. Link is very loyal to Jake and Bridget and I love how he bonded with a rescue kitten with a disability Jake and Bridget fostered.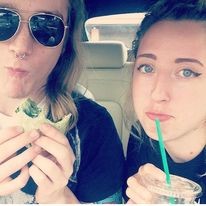 Bridget and Jacob are great dog parents!
Congratulations to my son Jacob and his long-term girlfriend Bridget who married recently by a court judge! Good luck with your future & I look forward to a celebration with a ceremony and family and friends & all our family dogs: Bella, Link, Rory, Mila and Pennie, and Ruro too!
Like pets we bring into our lives and care for any rehabilitation need, humans need access to health care and human services that match their lifestyle. Having insight into how a person experiences daily living through their own eyes, sight being one factor surrounding their experiences, is important when preparing a life care plan.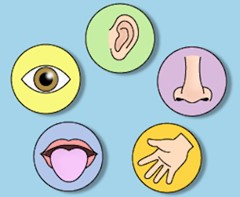 5 basic senses: touch, sight, hearing, smell and taste
Like humans, five senses play an important role in helping dogs understand their surroundings. But the way dogs use those senses is often very different than how we do. To highlight two, a dog's sense of smell is 100,000 times more powerful than yours or mine; and they are capable of hearing sounds four times further away than your or mine! Why is that asks my forensics mind? To learn more, here's a resource about dog senses.
My specialty is forensics, and in role as a consultant, I am grateful for the opportunity to learn about your client's rehabilitation needs following a serious accident or injury that leads to work-related disability. I will work hard to make sense of your case and add value through understanding what the client really does or really does not need, resulting in a higher cost or a lower cost figured into the nuances of your litigated case.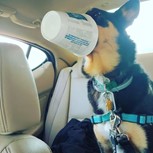 Link's getting that last bit of whip cream and no one can stop him!
In closure, I offer "evidence": Dogs have about the biggest heart per body mass of any animal on the planet, making them highly attuned to reflect the emotions in our hearts. If you're a dog owner, you likely know what I'm referring to.
Here's another resource that I'm sharing titled Pet Wisdom From Animals. Beyond Snuggles and Companionship, Out Pets Offer Us Profound Spiritual Lessons.
My attorney reader, I hope you enjoy my post and the links I offer. I encourage you to read the resource material presented in this post and lovingly look into your dog's eyes (Sight), give her a pat on the back or a scratch behind the ear (Touch) and feed her her a treat kibble or two (Taste) while singing or humming your favorite tune (Hear) while she can smell your breath (Smell)!
Thank you for reading! Please contact me to discuss your litigated case and how I might help you help you client. Contact me at 515-778-0634 or amyebotkin@lcpresourcesplus.com for more information about my approach to life care planning and to discuss your case!
P.S. – There's a 6th sense called proprioception, which allows us to keep track of where our body parts are in space. In my case, I sense this is the ability to keep track of what makes sense and what doesn't make sense! You see, I have the ability and experience to prepare a life care plan and to critique a life care plan, all to the benefit of you and your client! Contact me today!
___________________
My professional rehabilitation counseling practice is focused on helping people participate in the world around them, particularly in their own world of work.