Reading Time:
3
minutes
As touched on in my last post, I was employed through Interim Personnel (now called Spherion Staffing) and was placed at CorVel Corporation. Initially, it was just me and the newly transplanted branch manager (Scott). I provided administrative secretarial services to him while he marketed the company, got the office up and running, and hired people.
After the manager hired a nurse case manager (Ann) and a vocational case manager (Connie), I started to assist them too. This allowed me to gain a better understanding of vocational rehabilitation services for workers' compensation claims and this industry (basically cost containment for workers' compensation claims through vocational and medical case management).
My role at CorVel was to perform secretarial administrative duties, deliver job placement services to clients with obstacles to employment; write concise and effective cover letters and resumes; train client in job seeking skills; prepare value added reports for insurance adjusters; and enter ICD9/CPT billing codes. My work kept me busy and my brain was gaining valuable knowledge! And most importantly, this is where I got my first taste of vocational work, specifically job placement. And I liked it! And I was good at it!
Now, in the summer of 1992, I applied as a transfer student to Iowa State University. During orientation, I took the wonderful placement test to help determine the appropriate level of English [no problem for me] and math courses [oh boy!]. I started out at ISU in the College of Business with intentions of going for a business degree in marketing.
My first semester was, lets say…challenging. Courses such as Management Information Systems, Financial Accounting, and Business Calculus – well, they were pretty much beyond my head. Bottom line, because calculus and I didn't see eye to eye (I even hired a tutor – Michael from Malaysia – smart dude who really helped me) and I busted my butt for this course and earned a C-, I decided to switch majors. On to the School of Education I go. I enrolled in the Community Health Education program. Click here for explanation of that program.
As I full-time student, I was taking a full load of credits each semester. Living on the South side of Des Moines in our lovely country yellow 1970 Champion trailer, and traveling to Ames daily took its toll on me and my car, a white 1990 Olds Cutlass Calais named Chelsea Megan.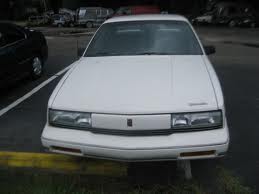 "Chelsea Megan" – named by Nick, age 3 at the time
I soon learned about the Des Moines Commuter Club. I joined and was recruited right away to be treasurer!
Now, I only drove Chelsea Megan once or twice a week North to Ames. We (my fellow commuters) parked our cars at the Epworth United Methodist church parking lot (Euclid Avenue & 4th Street) and hopped on the interstate for a speedy jaunt to Ames. Oh what good discussions we had enroute. The Armory was the pick up/drop off point on campus Anyone recall?
In September 1992, Randy accepted employment as an educator for Des Moines Public Schools and started teaching at North Alternative High School (now Casady Alternative Center). This was good, as he would now have a regular salary (recall he was a substitute for a long time – working in a number of different schools; and then having the long term sub position at the alt school) and employee benefits!
I should mention the wonder boy Nickolas.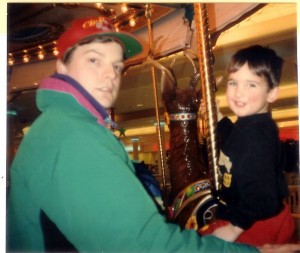 Randy & Nick on Carousel at Southridge Mall 1992
What a smart child. Okay, Nick is a smart adult too! He was now 3 and being cared for at a daycare facility. We were so blessed to be living by a good friend (Chele!) who would also babysit when we needed a break. Nick & Chele to this day are bonded friends!
I hope you take time to assess your VALUES – what matters most to you. I value Faith, Family & Freedom. Feel free to take this values questionnaire.
Stay tuned, we are only approaching 1993 Part 10 up next!
_____________________________________________________
My professional rehabilitation counseling practice is focused on helping people participate in the world around them, particularly in their own world of work.