Reading Time:
4
minutes
Did you know, according to the U.S. Department of Labor, Women's Bureau, that women are nearly half of our Nation's workforce and more than half of our college graduates? Another interesting stat is the proportion of women with college degrees in the labor force has almost quadrupled since 1970. Guess what? My grandma Jean Dodge was a college graduate,!
I have fond memories of Grandma and she definitely was not boring! Jean lived in a condo, loved to golf, and drove a flashy red Corvair! She enjoyed going on vacations, including cruises too.
The color and model of Jean's car matched her hair and her fingernails!
Grandma enjoyed spending time vacationing at her and Grandpa's timeshare condo in Fort Walton Beach, Florida, soaking up the sun and feeding seagulls on the white sand beach. With outstretched arms, she'd hold a few pieces of cooked bacon high in the air and the gulls would swoop down and pluck the bacon from her fingers! At times she'd get a little swarmed and would have to back off the beach! Ahh, she loved Fort Walton Beach (me, too!)
Hey, there she is again, let's go!
G'ma has a bachelor degree When she met her future husband Jack , they were both attending Northwestern University in Evanston, Illinois. It was unusual for a young woman in those days (like the 30s) to attend college.
Willie the Wildcat ca 1960 (Northwestern U's mascot)
In later life, G'ma Jean became legally blind. But, that did not stop her from reading. She constantly absorbed information and being visually handicapped allowed her to do things differently…and with a flair as usual!
My sister Julie brought over this article published September 7, 1978 in a local Northbrook, Illnois newspaper. I wish I could see closer at which necklace she's wearing, as Jean loved her jewelry!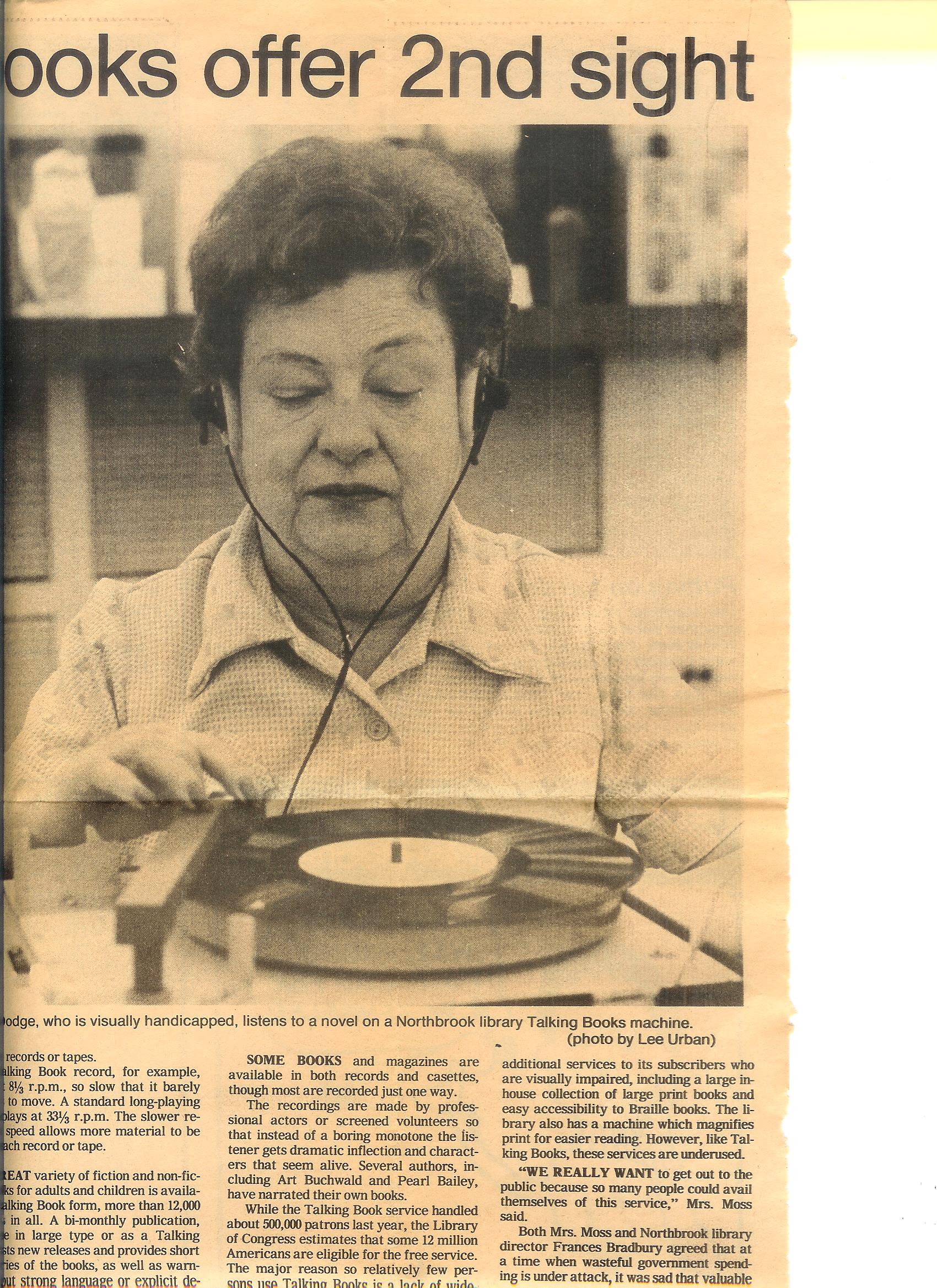 Taped books offer 2nd sight
Here's excerpts from the news article ~
Like many avid readers, Jean P Dodge reads 3 or 4 books a week. Unlike most other readers, she reads with her ears. Mrs. Dodge awoke last Easter to find her vision gone, destroyed by an un-diagnosed illness. That still mystifies doctors. She is one of the few local person who make use of free special library services for the visually and physically handicapped.
The services include Braille and large type (twice the normal size) books, along with phonograph and cassette tape recordings of dramatic readings of books (Talking Books). All these services are available through the Northbrook Public Library 1201 Cedar Ln as well as most other Northshore libraries.
The Golden Notebook, The Black Path, Saffron Skies (I love titles!)
Mrs. Dodge, a self-described former "avid" reader of paperback fiction, said Talking Books serves as a psychological link to the life the 64-year Northbrooker enjoyed before developing impaired vision.
"I've been reading for about 60 years, so it (losing most of her vision) made quite a hole in my life. I read constantly. It was one of the greatest sources of my amusement. Talking Books made all the difference in the world to me. I feel so much more normal. It has made such a tremendous difference in life as far as getting back to where I used to do," she said.
Mrs. Dodge learned about Talking Books from a daughter in law employed at Deerfield Public Library that also supplies the service admitted that without her new verbal world of reading "I would probably go nuts."
"I would be a very bored and unhappy person. Radio and television would be my only options to pass the time. I can't be in my car running around anymore, so I have a lot of spare times. This fills the breach." ~ the entire article was written by Richard Sheehan.
And so, Grandma, very nice article. Thank you for continuing to do what you loved while also loving all of us grandkids! My grandma helped instill my love of reading. She even enrolled me in (and paid for it!) a book of the month club! It was great, books mailed right to me. Thank you for helping to shape my history grandma!
Visit www.WomensHistoryMonth.gov to learn more about the generations of women who have shaped our history.
If I can help you help a client who's lifestyle has changed due to disability or functional limitation, it's important to look into new ways of enjoying hobbies and any other avocational activity. A person should not have to lose out and be bored and unhappy (as g'ma said). If a life care plan is in order, hobbies (and how they are viewed) in the person's future can be included. Contact me to discuss your case.
___________________
My professional rehabilitation counseling practice is focused on helping people participate in the world around them, particularly in their own world of work.