Reading Time:
3
minutes
Oh SamiJo, how I miss you. I've cried a lot and believe writing this blog and posting pictures of you are healthy for me to grieve, even one year later. Samantha Josephine Botkin ~ January 10, 2002 to January 10, 2018.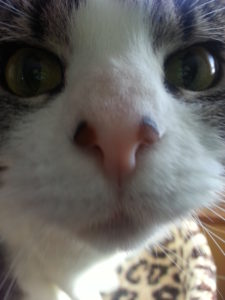 I have many memories of Sam. She's the only store bought cat I've ever owned! We definitely got our money out of that Aqualand purchase, back when the kittens were for sale in the window.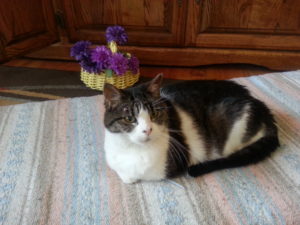 16 years is a long time to spend with me, and we both sure went through a lot! Sam's fur was soo soft and she smelled sooo good! I loved pushing my face in her coat and taking big sniffs!
I was so proud of my goal: for Sam to be a "lap" cat. It took five years, but here's my proof. I was such a proud cat owner this day, December 20, 2007! I was so proud of both of us! Sure wish I knew where that pink ISU hoodie went.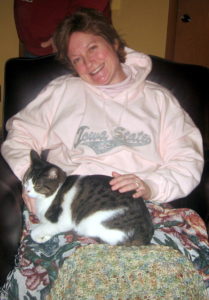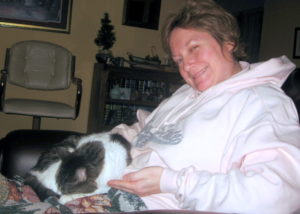 After that, she pretty much was always near me! She loved cuddling up with ArinJune too!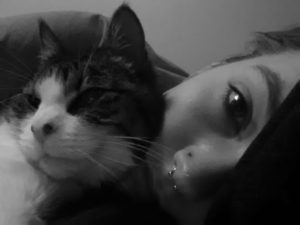 Here's just a few more of the many pictures of Sam I've taken over the years.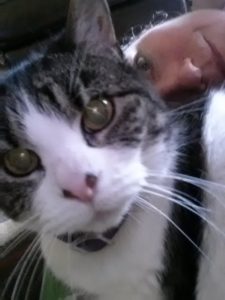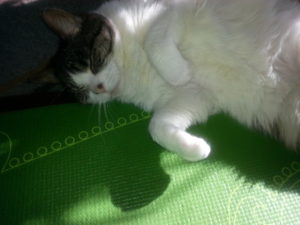 Isn't she special! As I believe all cats (and cat owners) are!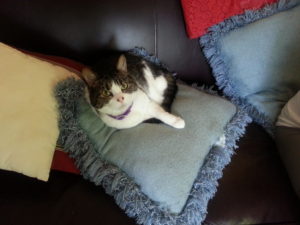 I love this shot with Sam lounging on the blue pillow (which I salvaged out of my mom's dumpster when she cleaned her house out before moving to Florida after dad died in 2016), the colors being a perfect background!
Below is the last photo I took of her, the day I called my vet and was referred to the Iowa Vet Referral Service on Merle Hay Road (highly recommended by me).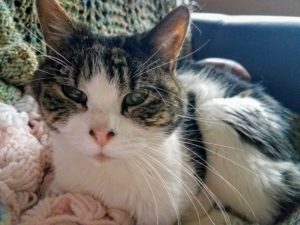 When I look closely into her eyes, I can see me. A week after she was euthanized, I picked up her ashes and on the trip home, I saw a rainbow in the sky!!! It was the Rainbow Bridge without a shadow of a doubt. If you've experienced this before, you know what I mean. Believe me, it's breathtakingly true.
The box for her ashes is beautiful, its' home in my bedroom is near where she slept. Her clay paw prints have a special place as well, which I fill with vanilla essential oil for a nice aromatic reminder of the love of my life Samantha Josephine Botkin.
Prrrrrrr.
I'll never ever forget our time together on this earth! Till we meet again girlfriend.
___________________
My professional rehabilitation counseling practice is focused on helping people participate in the world around them, particularly in their own world of work.