Reading Time:
3
minutes
Okay, after blogging recently about my forgetfulness when it comes to certain situations, I admit yet another one. Right before Christmas I found my DMACC graduation certificate, with Randy's Saydel High School diploma (yep, stashed them in a good spot alright.) I've been curious where my DMACC diploma was hiding.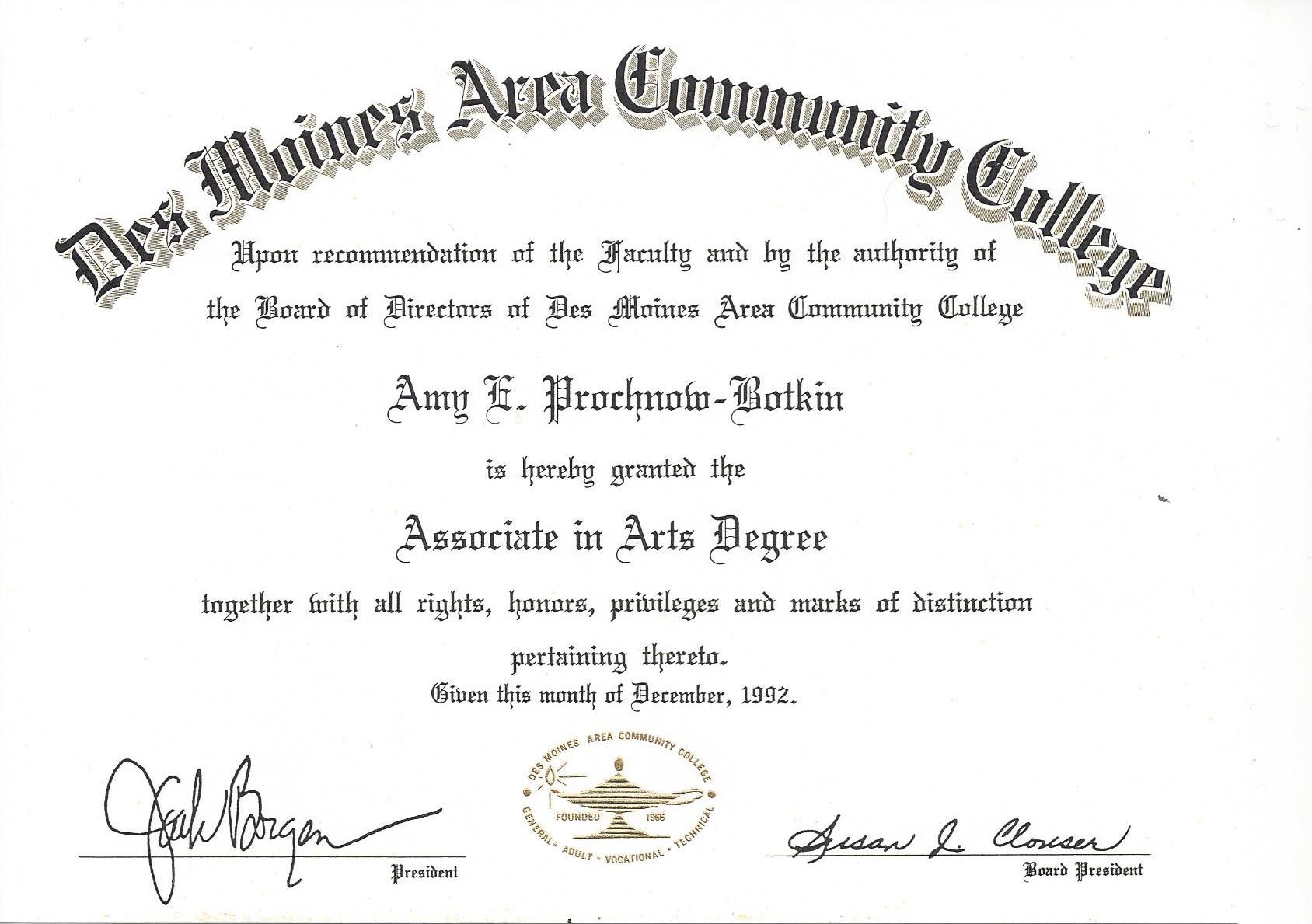 Here it is! My DMACC Associate in Arts Degree December, 1992
……together with all rights, honors, privileges and marks of distinction pertaining thereto! Given this month of December 1992! You'll have to go on the wall as soon as I find a frame!
Again, blogging about my past helps me organize my stuff, practice creative writing, connect with you and share my talents. Hopefully I have all the dates, etc. correct on my living resume! I get a bit confused about my own past from time to time!
I also recall, let me look for it….a blog about my house and the STUFF. Which I need to find that post…. [update 2 hours later! Here is the link…but it's really about setting SMART Goals! And I am proud to say my humble abode is MUCH better! Thank you.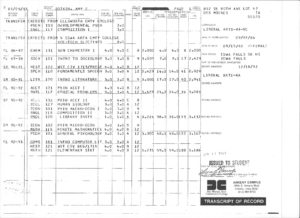 Here's my transcripts too. Worst grades include a C in Chemistry….and a C in Principles of Accounting II…go figure! I started DMACC in 9/2/86 and finally was awarded a LA AA degree 12/18/1992. Wow, took me six years!
I was pretty busy during this time with working two jobs (at the Department of Education in the Grimes Building as a secretary by day and for Dr. Schwartz transcribing his medical records at his dermatology clinic by moonlight!), had a baby (Nickolas Andrew) in 1989 and got married (Randall Eugene) in 1990. But I persisted!
One strategy I practice TO BE SURE I DON'T FORGET SOMETHING REALLY IMPORTANT is to put a T on my left index finger. Back 1988-1989 from time to time, my sister Janice asked me to pick up her daughter Taylor Marie from daycare after my work. This is what I did and I continue to do so I didn't forget T: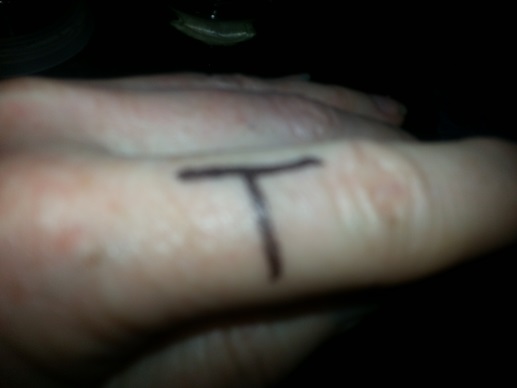 A T on My Left Index Finger Helps Me Remember Something Really Important!
Like today Amy, be sure Bella has water in her heated bowl. Brrr. She has enough fur and she loves her house, so I can't worry too much about her, but she does need accessible water.
Anyway, last weekend I attended a CRHP Christ Renews His Parish retreat. I am serious about making my life more simple……and focus on what really matters. The retreat helped me realize that even more!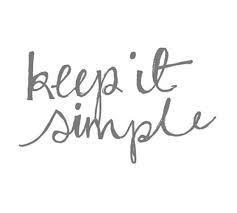 Stay tuned for a blog about me looking for work! Or maybe I'll blog about my faith! Possibly more about my secret…….or my husband!!! Who knows at this time??? Remember, I blog about the present and my future…..and love to write….and work….and play….and pray….and live life fully!
I hope you enjoyed the Super Bowl last night. I wanted the Seahawks to win. I really like their colors, especially the Action Green…..I can see the plays so much better! Click here for a blog about the skills of a football player!
Brain Workouts
BTW, when it comes to my vocational counseling……I don't forget! I have a steel trap memory for what transpires on my cases. Test me!
___________________
My professional rehabilitation counseling practice is focused on helping people find a place in the workforce