Reading Time:
4
minutes
Okay, another cat blog! Yes, I'm a cat lover and I love all pets and care for all living creatures! I'm not a cat fanatic, it's just that felines have always been a part of my life since I was a teenager, and I love it! I love cats! I love to write too. I love my work. I love my family. I love my life! I love a lot actually! Amy means beloved, so it's reciprocated in many ways : ) Read on please! I'd love it!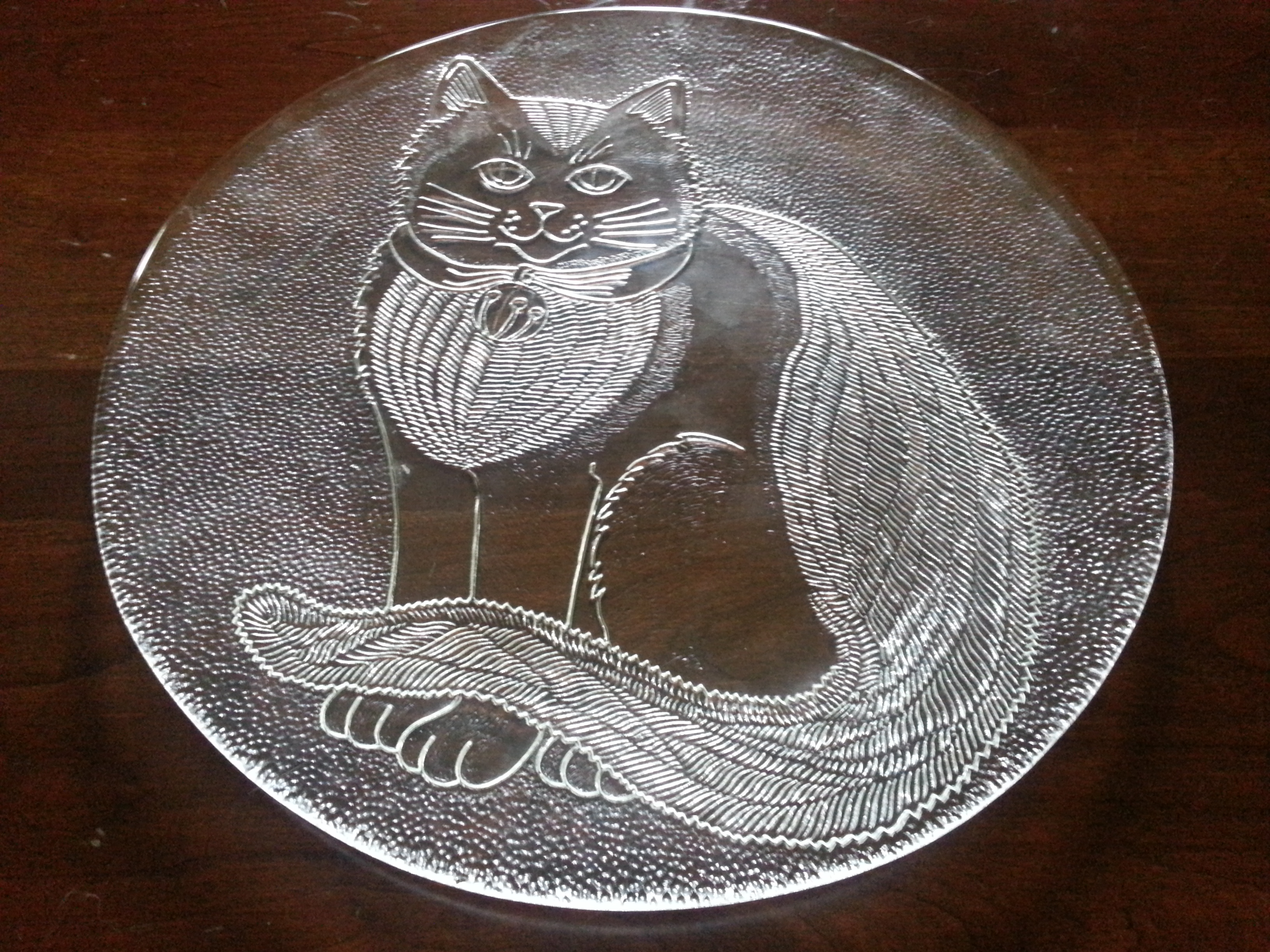 Little did we know that 3 months after Max my manx was murdered in early 2002 by something in the street, (I don't love creatures who kill pets and on the other hand I don't like it at all when my pets kill creatures), a tiny meow would emit from our neighbor's garden. Oh my, this long haired kitten was awesome! Felix! Welcome! (Okay, this blog is not about Felix today!)
Max, (nope this blog not about you either, meooowww) a dearly beloved yet wild cat, found me ~1987 when I was renting the basement of a brick home in Windsor Heights (it had a pool in the back yard.) Speaking of cat claws!…A word of advice from a long timer cat owner, (counselors shouldn't give advice, but in this case, listen to me!): Don't think it'd be fun to give a cat a ride on an air mattress in a pool. Trust me. Sure looked like I had open heart surgery!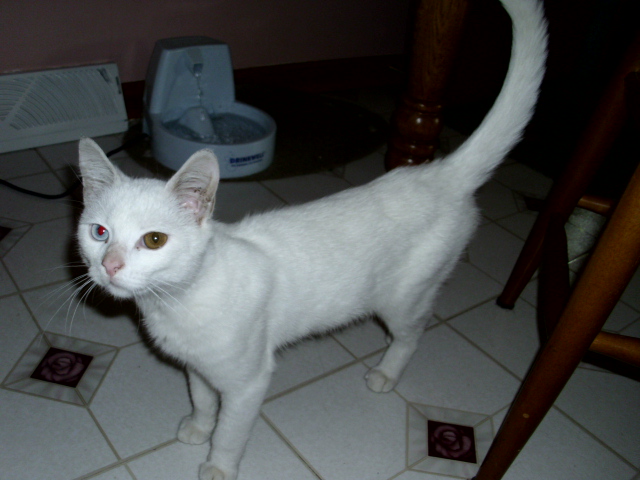 Now, here's a blog devoted to Alaska. She's the cat who strutted on down the street one Spring evening in 2012 (following my son Jacob and his friend Josh) directly into the house and to a bowl full of cat food. Score!
I recall saying "Wow I've always wanted a white cat!" She's all white with beautiful eyes (I love the green one; no, I love the blue one!). Oh dear, upon her arrive she was a very thin stray! And oh dear, oh my, oh dear, I would have no idea what trouble she would end up causing over the next year or two (…..) you really don't want to know…..it involved lots of $$$$ over time (furnishings….another word of advice regarding leather furniture and cat claws). More costs $$$ credited to this white cat was the vet bills due to her actions toward the existing female feline (my love of all cat loves SamiJo.)
The cat looked like a kitten, however the excellent vet (Dr. Michael Forret) said she was about 7 months old when she decided to ditch being a stray and chose a home. She was hungry and dirty! Even her ears where filthy. Jacob named her and she has a middle name too, but I don't think I should let you on to that just yet!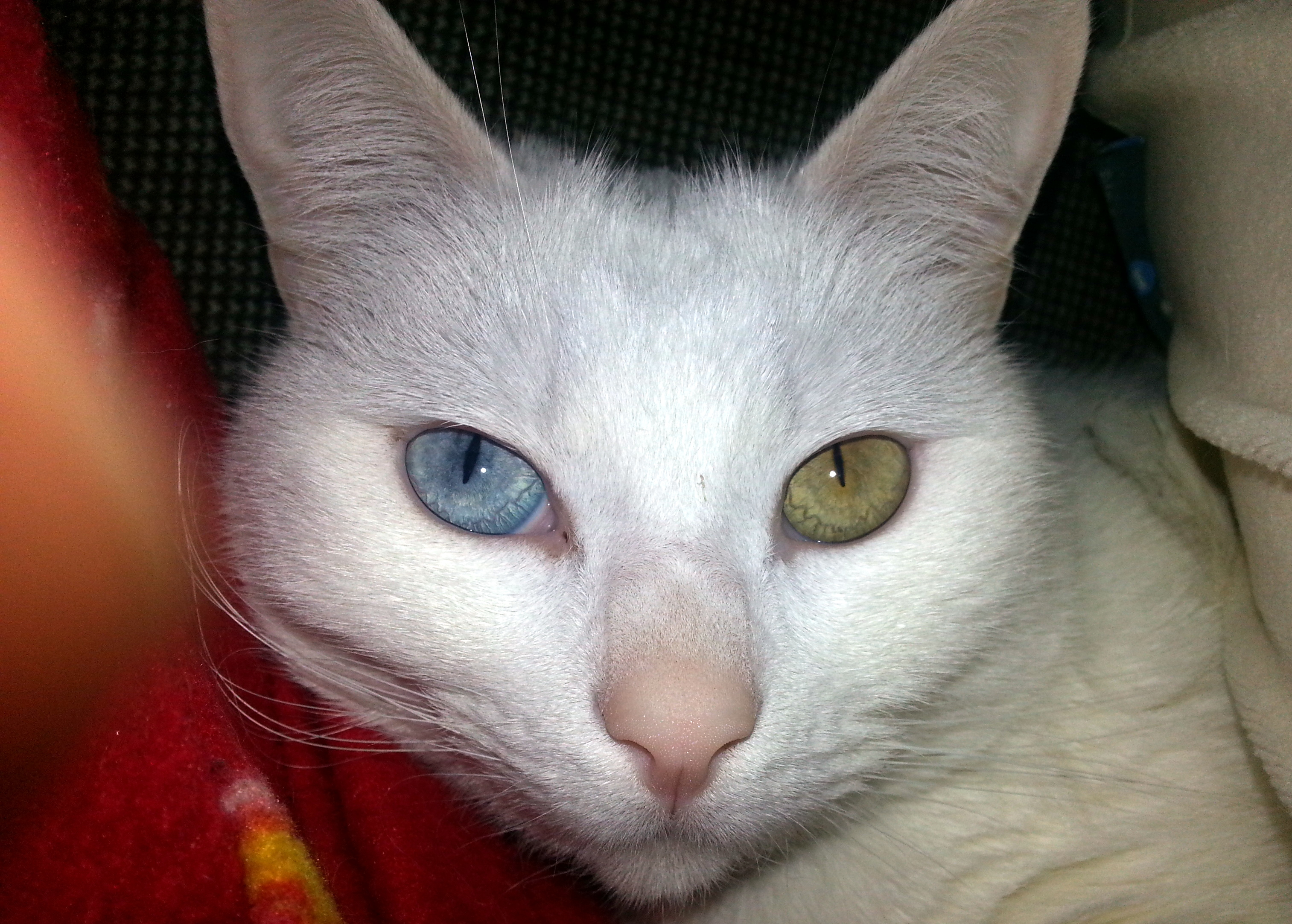 I rehabilitated Alaska TF into one big healthy white cat!
Part of Alaska's rehabilitation included a lot of touching. She didn't like being touched much, probably because she had not experienced much touch. She still to this day has to be touched only upon her terms….but I like to make her think she loves being petted which she really does but tries to hide it (cats).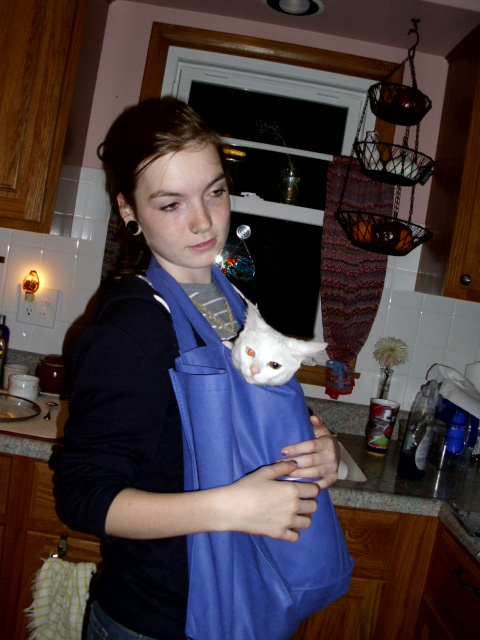 AJ & AK bonding!
ArinJune figured out a way to carry her around in a tote bag (and to this day I often find her lounging in one of these she found!) to feel safe. With ongoing rehab, regular vet care, good food and water, and lots and lots of love and attention, she thrives! Treats are nice too!
AK is much calmer of late into her more mature cat years. She loves the freedom to do what felines do (….sleep…and read above [hunt]…). She continues to be "a wild one" however and she herself does her share of "killing and delivering…." But, how can I stop a cat from that? Her hunting is actually of value to where we live because of an unkept property or two in the hood. But the dismembered gifts by the back door, come on! Enough. I have purchased her a new collar with a loud bell that will hopefully help plus she only goes outside about once or twice a day.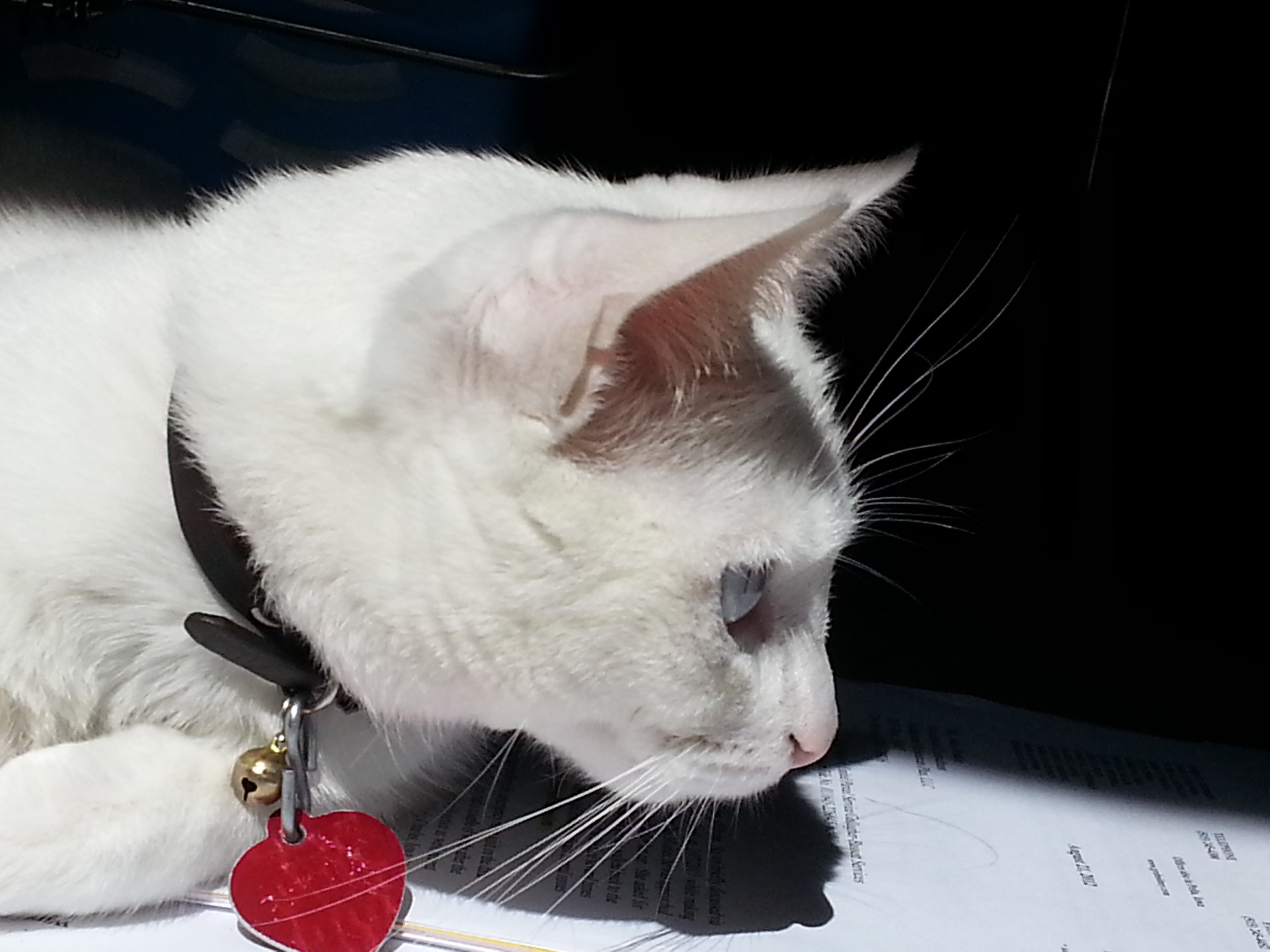 Alaska helping me on a case!
Good communication and problem-solving skills are required in order to counsel others. I truly in my role as a rehab counselor, want to be empathetic and I want to reveal my desire to help people fulfill their goals. Counselors need good listening skills, compassion, and patience while working with individuals who have suffered serious injury and disability.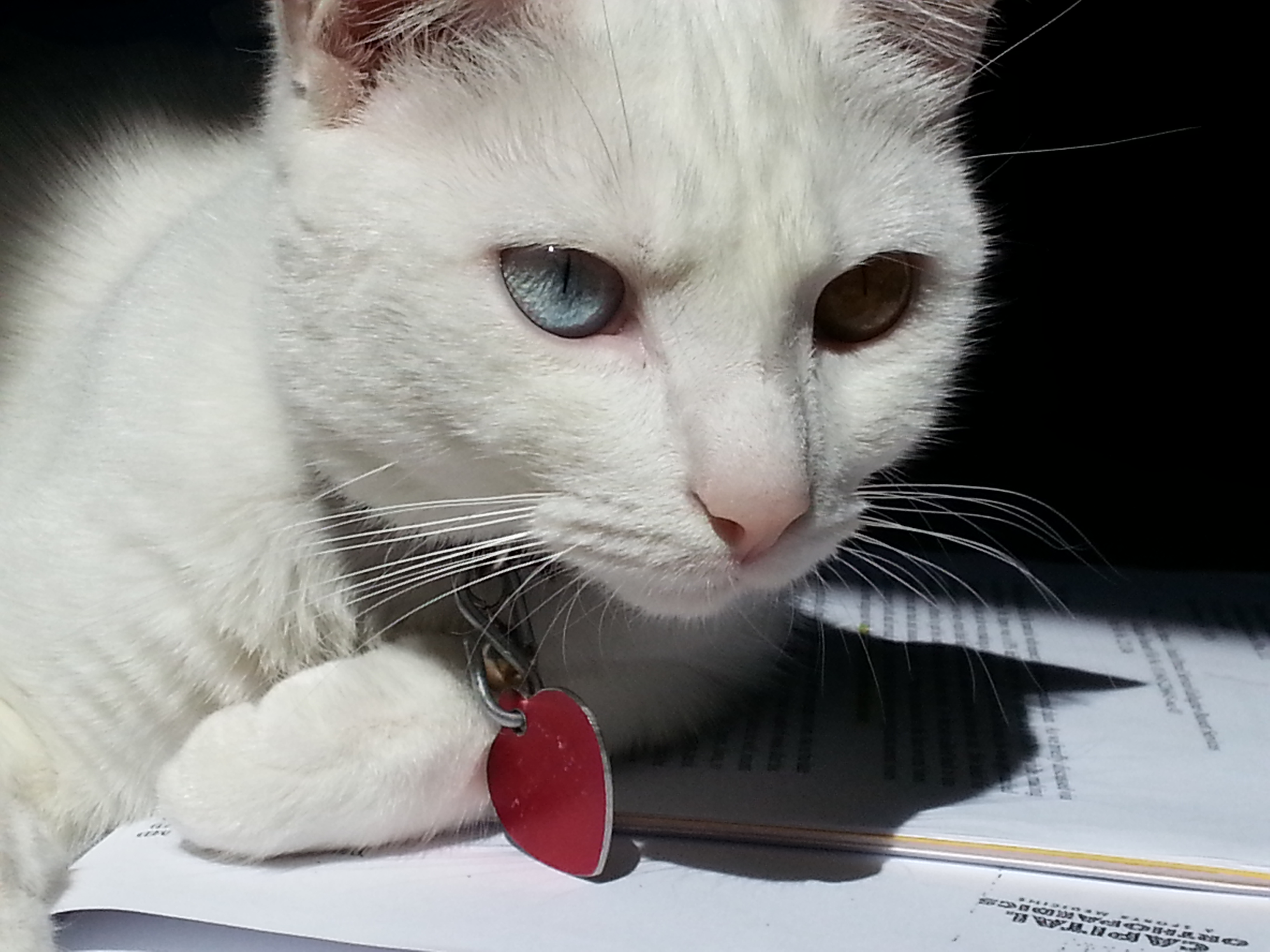 She found this case interesting and pauses to reflect!
I know I have patience beyond that of a normal cat owner! Thank you my felines for teaching me how to listen and show my true self.
If I can help you help your client with a life care plan that includes vocational rehabilitation, please let me know!
___________________
My professional rehabilitation counseling practice is focused on helping people participate in the world around them, particularly in their own world of work.