Reading Time:
4
minutes
Hope you enjoyed last week's blog post about motivation. On to more recollections of my days at ISU:
In the Spring of 1994 I took Social Work 261, taught by Stephen M. Aigner.  For the course,  I was required to read a book about the depression titled "In The Shadow of the Poorhouse", by Michael B. Katz.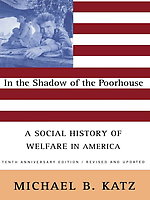 I still remember the book….17 years later (woah)
From Library Journal
According to Katz, the American welfare system that nobody likes has been able to resist fundamental change over two centuries because of its symbiosis with the social structure and the political economy. From his analysis of the history of welfare in the United States he finds that there have always been contradictions among its goals: deterrence, discipline, compassion, control, and patronage. Real reform, unlikely in the near future, would require that both social insurance and public assistance be replaced with full employment at fair pay, complemented by a social wage to all who are unable to work or find a suitable job. A stimulating challenge to the benevolent interpretation of welfare in America; recommended for academic and large public libraries. Harry Frumerman , formerly with Economics Dept., Hunter Coll., CUNY
Copyright 1986 Reed Business Information, Inc.
I prepared a report after reading it titled "A Personal Look Into the History of Welfare in America." The instructor gave me a 100 on the paper and wrote "You've worked hard on this and it shows. One of the better papers I've had in five years!" The instructor encouraged me to think about a career in social work. Hum, I pondered….
Here's a few paragraphs from the report I authored April 6, 1994, to answer a couple of questions from Chapter 9:  
Did the claims of critics about the expansion of social welfare hold water?  In my view, the criticisms of social welfare didn't hold water for a number of reasons. The expansion of social welfare included many new sources of benefits and programs that assisted all level income populations Benefits included in-kind programs, implementation of a retirement wage and increase in public welfare roles. Nutritional programs such as school lunches and dietary supplements for women and young children were expanded. Food stamp application grew and housing projects were subsidized. The commitment of social welfare programs to minimize poor quality living conditions and improve services to enhance human development and the general quality of life was an important step in the continuation of our country's welfare policy.
Some people criticized the increase in welfare reform. Social insurance was seen to undermine the free enterprise system. And of course, the well known dubious demoralizing work ethic effect thought to exist was ever present. Many people also complained of the increase in federal government expenditures, yet the helping profession wasn't the only service increased. Perhaps the critics didn't view health care and legal assistance as beneficial to the entire country.
Relative to other western industrialized countries, how does the U.S. compare in its treatment of its citizens? When all national expenditures for social welfare are added and compared to the gross national product, there is a remarkable comparison between the U.S. and other industrialized demographic countries. The U.S. relies the heaviest on public assistance because our people have lower relative incomes and fewer incentives to work. Our government provides its citizens with a semi (half-there) welfare state. It taxes its citizens fully while only partially helping the disadvantaged members of its population. Compared to Switzerland, the United Kingdom, West Germany and Australia, the U.S. ranks last in its methods and principals of providing helpful assistance to its people.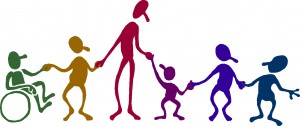 Helping Client Systems
Although I didn't become a social worker, my career as a rehab counselor is similar in nature. Paramount to our work is building relations with clients and client systems. Relationships are based on mutual participation in identifying goals that are practical for the Client.  In my profession as a rehabilitation counselor, I have chosen to focus on helping people find their true vocation.
 A vocation (from Latin vocare, meaning "to call"), is a term for an occupation to which a person is specially drawn or for which he or she is suited, trained, or qualified. Though now often used in non-religious contexts, the meanings of the term originated in Christianity.  Source: http://en.wikipedia.org/wiki/Vocation
Into the second week of Lent, I thank God for giving me this gift to help others.
I hope you enjoyed reading. On to Part 16!
___________________
My professional rehabilitation counseling practice is focused on helping people find a place in the workforce