Reading Time:
3
minutes
Okay, in the 1980s Randy worked at a restaurant called The Husker; and later Wag's when it was located in Merle Hay Mall. Anybody remember these places? He pretty much did whatever needed to be done to help operate the restaurants.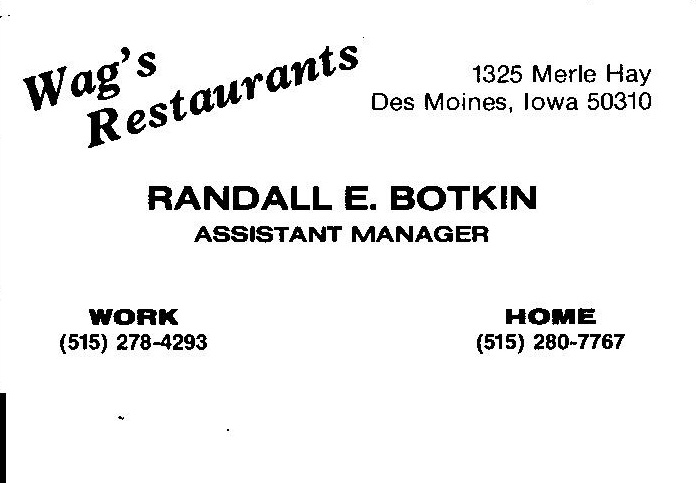 Here's a business card I found!
Okay, time went by and because Randy refuses to be my guest blogger, I have to skip his life up to the point I met him! When I met my man in the summer of 1988, he was managing the Perkins Restaurant in Newton, Iowa. He tells me that on the day (night) we met, he was coming off a 24-hour shift because one of the other managers called in sick. 
Yummy!
Randy decided to drive to downtown Des Moines to participate in the bar scene. Low and behold that's where I was……having started out at SeniOmSed in Nollen Plaza on this beautiful Friday summer afternoon. Now you have to remember those days I hope!
Randy and I met as we were crossing the street…about midnight. We walked together to where our cars were parked next to each other in the downtown library parking lot. I drove a red Plymouth Turismo and Randy a red T Bird!
The building now is home to the World Food Prize Hall of Laureates and is even more beautiful!  The rest is history …. When we married in 1990 Randy was working at Garcia's Mexican Restaurant as a food server.
I miss Garcia's!
Randy was also finishing up his bachelor's degree training in teaching at Grand View College. Four months after our wedding, he graduated. And about 16 months prior to that he helped me deliver our first son.
I recall, and who could ever forget, being up all night delivering Nick. He was born at 7:04 AM (weighing in at 9 pounds 4 ounces) on April 12, 1989. Randy and I were absolutely beat (okay me rightly probably a bit more.) But, Randy was doing his practicum student teaching. So off he went to fulfill that obligation.
Come up to today….Randy has been employed by the Des Moines Public Schools as a teacher since that time.  (I will be writing more about that.) You can ask anyone who knows him what his work ethic is like.  He is held in high regard by others. And I will tell you my thoughts:
I admire Randy's work ethic.  
Randy is willing to go the extra mile, stay the course, be persistent to achieve quality, finding resources when stuck, own problems that arise, and work hard…at whatever task or situation at hand. He is genuine and a gentleman (ohh, gush!!)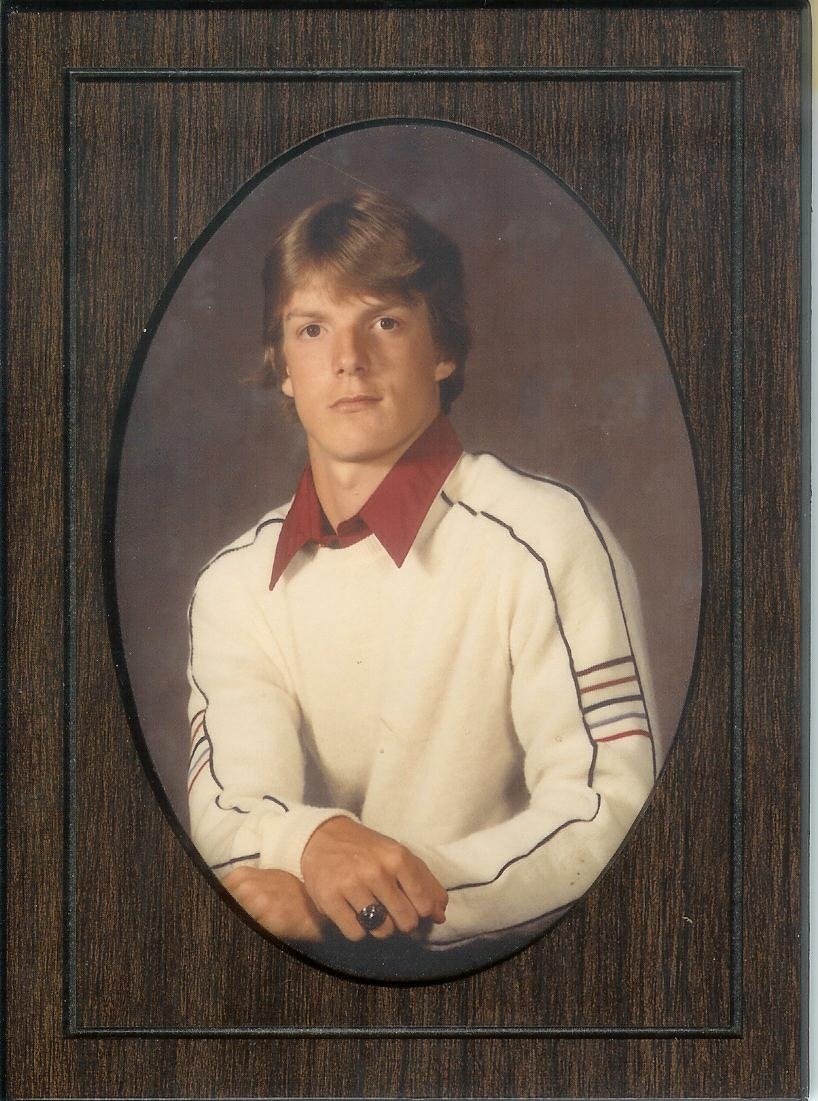 Randy 1983!
Randy cares about his work and has a good attitude about going to work and helping his co-workers. He has built a solid reputation that carries him far professionally. That said, to me, having a good attitude goes hand in hand with having a good work ethic.
And yes, Randy came back to the hospital room in the afternoon. Before having to take off to go to work at Garcia's Restaurant for the evening shift. Then back to the hospital again. The staff had kept our congratulatory meal and bottle of wine in the fridge. Baby Nick was whisked off to hang with the nurses while we ate. About 10:30 PM Randy left and Nick and I crashed…!
So again, thank you Randy's parents for instilling it….and to Randy for having such a strong work ethic! Having a good work ethic can take you a long way in your career….More to come on Randy's career.
___________________
My professional rehabilitation counseling practice is focused on helping people find a place in the workforce