I hope you experienced a joyous and peaceful Holiday Season. Gains and losses experienced in 2013 turn the holidays into a happy and/or a sad time for many. I like to take it simple and slow…..but that didn't happen this year…especially when it comes to the flurry of activity on Christmas Day.
I remember when the focus was on the gift opener/gift giver….not everyone at once!
Mom and Dad had the family for Christmas Day again this year. I keep a journal (not as complete as I used to and would like to…..) but blogging helps remember! I did really well blogging last year, however taking a year long course takes a toll on the time available to write (and do a lot of other things as well….). Anyway, here's what transpired last year.
What will 2014 Bring?
I am ready to enter into round 3 (out of 4) of my educational program through GWU next week. My next course will be Law and the Rehabilitation Consultant. It will be interesting. I'll be visiting Washington DC to culminate my program AND most importantly to visit with my niece Taylor Prochnow.
Taylor made an Iowa trip over the holidays to visit her loud and obnoxious family (that's us). Taylor makes her home in Arlington, Virginia. She knows the ins and outs of the DC area and I am so excited to have her serve as a future tour guide.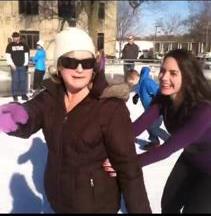 Me and T skating at the Brenton Plaza (no wipe outs!)
Taylor  graduated from the University of Miami and moved North to work in international relations. She works for a think tank in DC….more to come on her career some day (I need to learn more about what she does.) I am very proud of our beautiful Taylor Marie!
I hope your January is peaceful and the months to come bring what you foresee into your career. I'm excited about my career (especially with doing more life care plans!) in 2014 and in planning, I'm using the services of our local Small Business Development Center (SBDC) for free, confidential and customized advice! I recommend if you have a small business, or want to start one in 2014 to do the same. Here's more information on the SBDC.
And back to the wiping out possibility. I didn't wipe out as I was ice skating. But boy did I start slow and clunky (ice skating is not walking dummy…it's more of a gliding motion.) I was getting into it!
Follow what you enjoy in 2014 and you will see success!
But then again, a wipe out (AKA a mistake or an error) will happen…..I've always been of the mindset that you learn from your mistakes.
Happy New Year! Be Safe, Make Good Choices, and Be Creative!
___________________
My professional rehabilitation counseling practice is focused on helping people find a place in the workforce