The estimated reading time for this post is 219 seconds
Here's a beautiful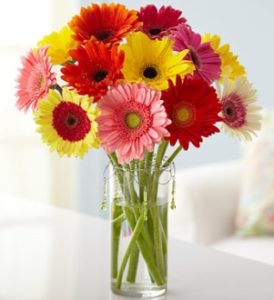 Bouquet of Gerbera as a gift to celebrate my endurance and to share with you, my reader!
I've had some (thinking for the right adjective to describe but am coming up empty headed) website issues lately. And if you're like me (a self taught web designer/blogger person who has to maintain it all, etc…), it can become quite disheartening to have your site be down. It's not that I didn't try very hard to fix it, because I've had "issues" before that I was able to resolve, but not as complex as this one! But with help, I was able to be back online!
So, Amy, with these flowers, I remind myself of where I've been and that I'm specially equipped to continue on with my choice to write to my readers! Yes, again, You!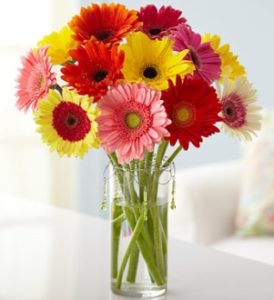 What's rather interesting to me is the fact that when I first started my vocational consulting practice (September 1999), I was working part-time at a flower shop (Doherty's on 2nd Avenue) as the "flower processor." The best part of what I did for this job (besides clean up the backroom, storage spaces, the walk in cooler, etc., and other areas that needed it), was to process incoming freight. This involved (♥I loved it!♥), opening the boxes of flowers after I signed off for the delivery; and preparing the beauties for use by the floral designers.
My very favorite flower to process…the gerbera daisy!
On-the-job, I was taught how to unwrap the flowers, place them in the correctly prepared liquid solution, and cut the flower stems perfectly before placement in correctly prepared containers for storage in the cooler, as required for best results! I used a really big stem chopper like this:
Watch the fingies, Amy! I really enjoyed this part-time job (ahem, it's not on my resume however)! I was working with live beauty! No, I never got injured! The work allowed me to continue on my journey (the position was only short lived because my business started getting busy…and I could no longer take calls in the bathroom) living as a flower arranger. Growing up in the 70's, I excelled in flower arranging, even entering fair contests and winning ribbons! I loved Flower Club, thank you Marie Hubbard my neighbor mom who was the group leader and one great teacher!
Where'd my flower show ribbons end up?!
Back to this blog…for awhile there were some interesting sounding warning signs at the top of my site (not at all a good thing, right?!?). There was no danger to my readers, or to myself for that matter! And it wasn't the end of my world (but I did fret a lot).
So after plenty of anxiety (boooh) that was overcome (we shall!); and with a big heaping of faith in myself, I dove in, performed in-depth research, made local connections, trusted my instincts, spent plenty of time and money…; and learned about my options which lead me to make a change for the better! In a nutshell, I switched hosting providers (sounds easy, but really is not!) It's a process….just like every business or personal related transaction/step/decision which is important in one's life.
I feel a tad smarter in this huge Internet world! And this learning experience gives me additional insight into who I am as a self-proficient small business operator. And allowing me to help you even more with your client who may be just that: a self-employed small business person. My plan for my business is to continue to utilize my website for the purposes it was intended when I started it up <link to my disclaimer!< in the Spring of 2011!
Could your plan include contacting me to help you help your client?! If you need any sort of vocational assessment, I am definitely one of your choices (and would like to be your preferred chosen choice!)
Vocational Resources Plus, LLC * lcpresourcesplus.com * 515-282-7753 * VocResources@gmail.com
My professional rehabilitation counseling practice is focused on helping people participate in the world around them, particularly in their own world of work.