Reading Time:
4
minutes
A post from October 6, 2014 (Oh my!): I've been waiting for my graduate certificate in Forensic Rehabilitation Counseling from The George Washington University! It finally arrived in my mail box, hard copy and gorgeous!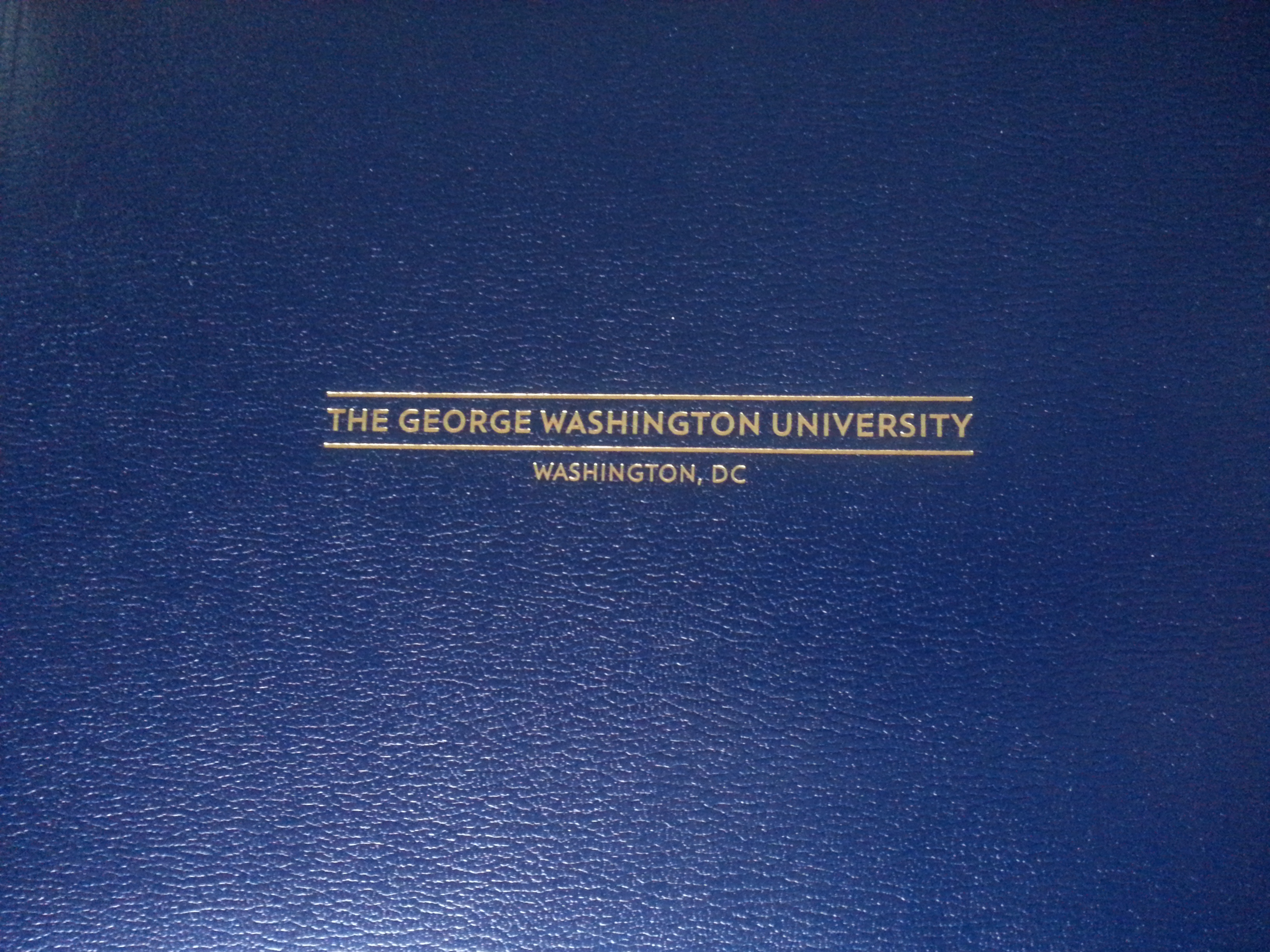 GWU's colors are blue and buff!
The Forensic Rehabilitation Counseling program took well over a year, and I'm happy to move forward with new and exciting forensic areas in my consulting practice. Forensic Rehabilitation Counseling is valuable in cases including personal injury, medical malpractice, life care planning, marital dissolution, product liability, and catastrophic injury. Although I've had some experience in these areas, I'm ready to take more cases on!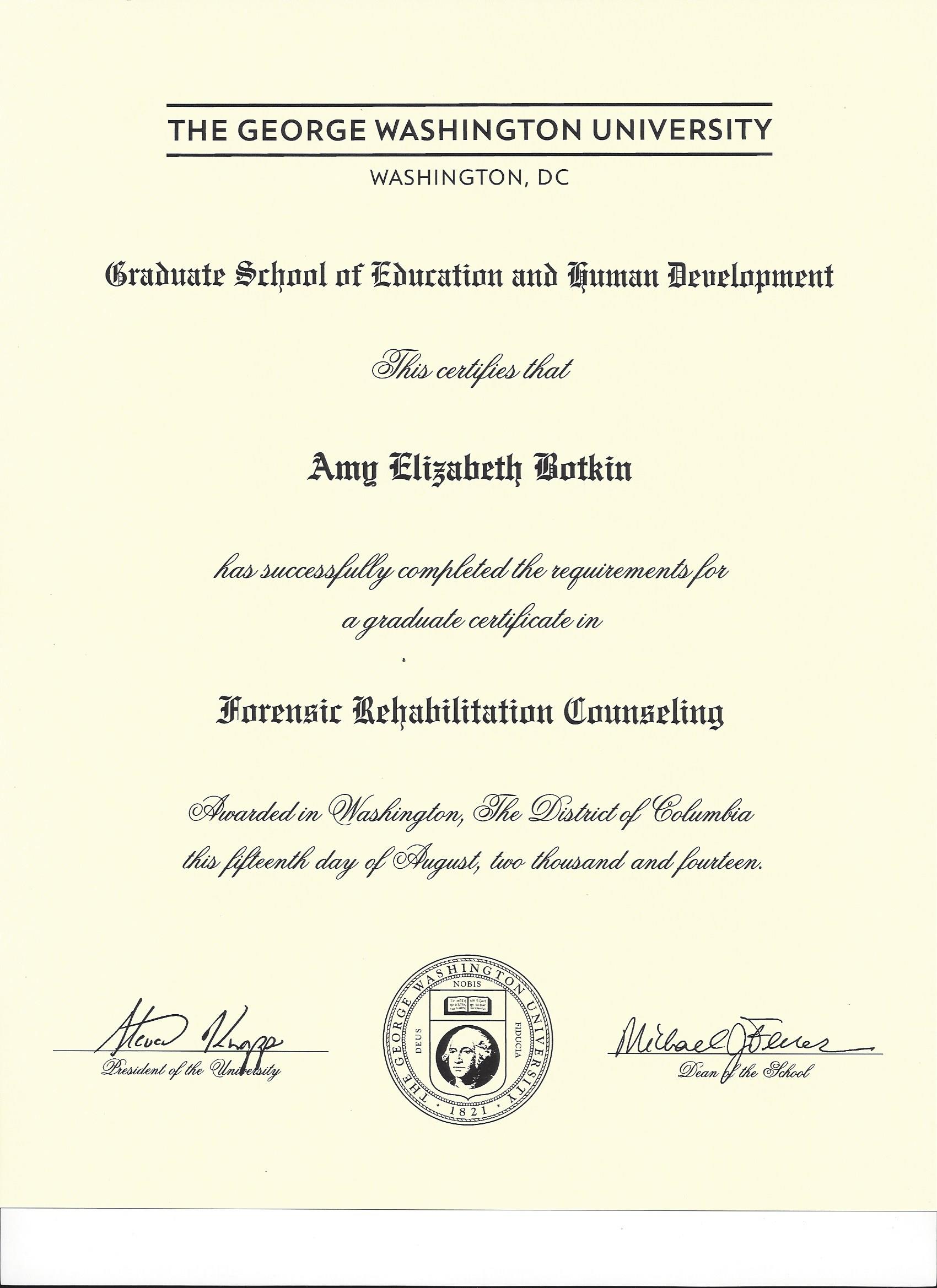 Forensic Rehabilitation Counseling Graduate Certificate, Awarded in Washington, The District of Columbia this fifteenth day of August, two thousand and fourteen
The certificate is printed in portrait orientation and not landscape, like all my other (I need to look up and to my left and count) 6 framed certificates. Okay, the other 6 are (exciting I know, but this helps me document them!) ~
High School Equivalency Diploma, State of Iowa, November 10, 1981
Ellsworth Community College Certificate of Graduation, One-Year Secretarial Business Program, May 23, 1981 (Yes, the dates are correct. I attended ECC before I graduated from high school. I had to wait to get my GED certificate even though I had already passed the college enrollment test and started college!)
Bachelor of Science, Community Health Education, Iowa State University, August 5, 1995
Master of Science, Drake University, School of Education, December 17, 2004
Certified Rehabilitation Counselor, Commission on Rehabilitation Counselor Certification, Number 71256
Certified Life Care Planner, International Commission on Health Care Certification, Number 1130
There's also my golf certificate from 1978! (It's not really on the wall!)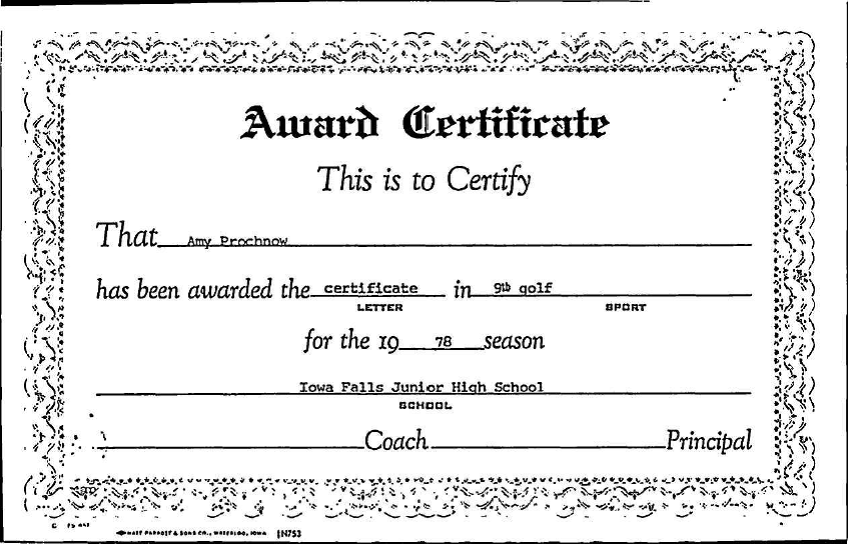 Huh, no coach and no principal signed it!?
I remember a hole-in-one at Highland Country Club in Iowa Falls. (Of course a hole-in-one will be an important part of my memory bank!!!)
I was golfing with Becky Tjaden, in a mother-daughter tourney (and my mom picked my sister Janice to play with!). I miss you Becky and treasure my memories of golfing with you, your level of teaching and mentoring me on the course has helped me in so many ways including in my career. Thank you Becky from the bottom through the top of my heart.
BTW: Do you know there is golf forensics!?
My last hole in one (on a golf course, not a putt-putt) was not that far removed from 1978!
Using my golf game as an analogy, each stroke involves tapping into good judgment more art than science which I've blogged on when deciding which club to use! My swing, not nearly as perfect as my mom's, or Becky's was!, must involve practice, practice and practice.
Knowing the lay of the course is important along with the weather and the ground conditions. So is knowing who's in front of you and who's behind you. Knowing the rules is invaluable as is keeping perfect score. Of course, are you an ethical golfer>ahemmmm : )
Have fun with your career and in your golf game!
Yes, the stakes are high in forensic rehabilitation counseling, and yes they can be in a golf game. It may be like getting out of the rough on the last hole of a golf tournament, and you never know if you've made the right choice until it's too late to change your mind. To play to win or at least to beat your opponent by a stroke or 2!, keep certain basic principles in mind, use your best judgment, your best methodology, your best attitude, and have fun!
Let me know how I might help with a litigated case that would benefit from my involvement. I love preparing Life Care Plans. (I can also critique a plan that landed on your desk!) A Life Care Plan can become the hole-in-one to your case!
Contact me at 515-778-0634 or amyebotkin@lcpresourcesplus.com to discuss your legal case. I'm here to help attorneys help their clients! Thank you for reading my post. I love the game of golf! Do you?
___________________
however since 03/01/2022 my byline changed from: My professional rehabilitation counseling practice is focused on helping people participate in the world around them, particularly in their own world of work.
to ___________________
My professional consulting practice focuses on helping attorneys help their clients with civil litigation matters.
(easier on the thinker, eh?!) Yep! Thank you for reading my old blog post and I hope to hear from you because I'm here to help attorneys help their clients!