Reading Time:
2
minutes
Just an update to let my readers know I am nearly done with my most recent learning adventure through George Washington University….that lasted well over a year! I certainly learned a lot about forensics rehabilitation consulting, and really appreciate my cohort comprised of really smart rehabilitation counselors across the country!
There are students from the great states of Iowa (me!), Texas, Ohio, Washington, Maryland, North Carolina, Virginia, Colorado, the District of Columbia, and who am I missing? Kansas?!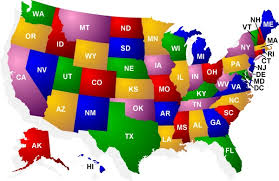 Our Beautiful Country is so Colorful!
I've been in all our states but Washington, Hawaii and Alaska. This was traveling done mostly as a youngster, in the back of a station wagon with the entire family (oh, the memories!).
Back to the current times Amy….! During the forensic rehabilitation coursework, I placed heavy emphasis on the study of ethics. Because I feel comfortable with my own ethics, in turn I feel comfortable with forming my own opinions (and expert ones at that!)
One ethics paper I prepared in October, 2013 for the course Foundations of Forensics Rehabilitation Counseling II (COUN 6396) emphasized Ethics, Values and Character Surrounding My Career in Private Practice.
In another ethics paper I submitted in Spring 2014 for the course Law and the Rehabilitation Counseling II (COUN 6396), I analyzed Ethics and Vocational Reports. Specifically, I critiqued a Certified Rehabilitation Counselor and his USE OF TESTING INSTRUMENTS in VOCATIONAL EVALUATIONS.
Along with submitting my paper to GWU, I also submitted it to a professor from the great State of Washington who teaches ASSESSMENTS to master's level rehabilitation counseling students. I received powerful feedback from her.
 
I am happy to share what I've learned and how it can be best applied to meet your litigation needs. My papers are available, just ask and I'll see if you really want to read all about it! Call me at 515-282-7753 or email vocresources@gmail.com.   Or easier yet, connect with me on LinkedIn. I've posted them there!
___________________
My professional rehabilitation counseling practice is focused on helping people find a place in the workforce