Reading Time:
4
minutes
[Original Post Date: Feb 18, 2013] Okay, even more about Randy. He's starting to get a bigger head. But he's still not reading my blogs unless I remind him….what about you my reader, sign up for my posts and they will be emailed to you. : )
Randy has taught the wonderful and well-behaved youth in our community (hee hee) for over 20 years as a teacher for the Des Moines Public School District. He teaches at Casady Alternative Center. The goal is for the students to earn enough credits to either return to their original high school on time to graduate, or to graduate from Casady. Either way, it takes a lot of effort on the kids parts….oh yea and Randy and his fellow teacher pals to accomplish this goal.
At times in all our jobs we must work with, coordinate with, consult with, etc., and/or try to encourage, motivate, teach etc.,…..people who seem to not really care about a project, the subject matter, finding a job, caring for their own bodies, any goals…..on and on and on. You get my point. How do we continue to take pride in our work when it would be easier to throw in the towel?
It goes back to sustaining the pride you take in your work ethic.
And it helps to add humor into your approach with people who may be difficult to work with. Randy has been known to dress up as characters when he taught a history lesson (a subject often known to be of boring material to youngens…some youngens…not you Taylor Prochnow)!
For example, he has dressed as Mark Twain to teach about (ahh, I don't really know); and as Abe Lincoln (to teach about Abe Lincoln I guess.) He'll have to fill the parenthesis in later….and in consideration that he is not at work today because of President's Day, we'll see if I can track him down.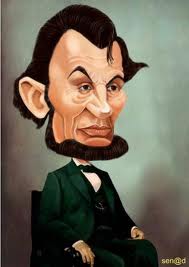 I also need to track down a picture of Randy dressed as Abe
His favorite president I do believe is Abe Lincoln (or is it Richard Nixon?). Randy tends to have an interest in most presidents and really has a good grasp on what they accomplished, or didn't, during their terms. I think he likes Jimmy Carter too (I do).
I often hung out with Abe and his son Tad during my lunch break when I worked for the State.
Okay, to the point of this blog about work ethic. I am pretty certain Abe had a fantastic work ethic and took great pride in his work. I take great pride in my work and so does Randy. I hope you do too!
Recall from my previous blog that I believe you get your work ethic from your parents. Yet, what about the person who didn't have great role models yet still exhibit qualities and traits of a hard worker/a person with good work ethic. Here's an article that will help you grasp the concept of taking pride in your work from the get go.
I've found that it can be easy to exceed the expectations of others simply by being someone who is reliable, on-time, diligent and professional. I think these are all hallmarks of people with a strong work ethic.
Here's some questions to ask and answer yourself about your work ethic:
Attendance ~ Are you dependable, stable and willing to take responsibility for your actions?
Reliability ~ Are you hard working and conscientious about the quality of your work?
Rules of Compliance ~ Are you likely to obey company policies and procedures?
Trustworthiness ~ Do you feel you are trustworthy and trusting of others?
I hope you feel good about answering these questions. When I interview people and find they have a good work ethic (and I often do…it runs deep here in good ole' Iowa), I know that the person has what employers look for when they hire.
I found a couple shots of Randy and his buddy Abe (know where this sculpture is located)?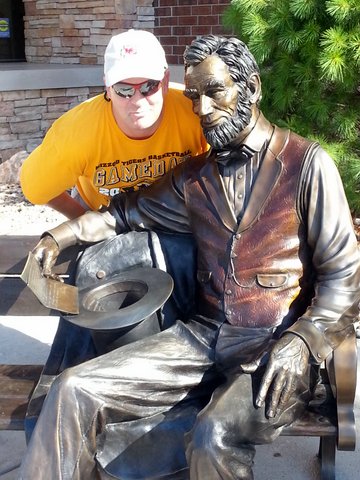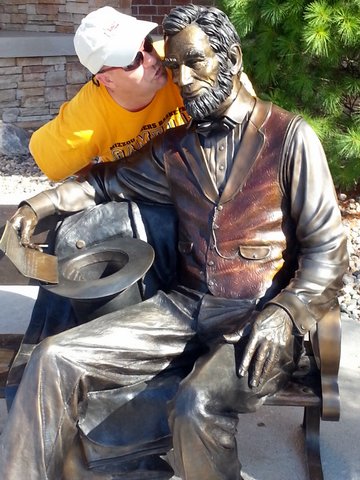 Ans
___________________
My professional rehabilitation counseling practice is focused on helping people participate in the world around them, particularly in their own world of work.
Answer: Jordan Creek Mall!